---
---
Peggy Wheeler
answers the Usual Questions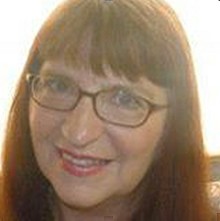 Peggy A. Wheeler is published under the names of Peggy Wheeler and Peggy Dembicer. She writes fiction, non-fiction and poetry.
She's led adult poetry and fiction writing critique groups and workshops in both Colorado and California. She is the editor of the online literary magazine, Straitjackets. www.straitjacketsmagazine.com.
Has your interaction with fans, for example, at conventions, affected your work?
My fans are mostly friends, family, my writing partners, and members of my critique groups. All of my fans are also my teachers. I learn from every person who reads my work and deigns to provide me with honest, straight-forward feedback. Any of my fans who take their time to talk to me, provide me with an opportunity to write better stories. I am grateful.
Is there any particular incident (a letter, a meeting, a comment that stands out?
There are two incidents that stand out for me in relationship to my writing. The first was meeting my good friend, and one time agent, Denise Dumars, thirty-three years ago. She was a major catalyst for my writing passion, and is still among my greatest supporters. The second incident was the first time I picked up an anthology in a bookstore with my piece in it. I was thrilled. I'll never quite forget that feeling.
Do you have a favourite author or book (or writer or film or series) that has influenced you or that you return to?
I do not have one favorite. I can't get enough of Gabriel Garcia Marquez, Barbara Kingsolver, Charles Bukowski and Pablo Neruda. And...who doesn't love H.P. Lovecraft, Edgar Allan Poe, and Clive Barker? I'm also a King and Koontz fan. In my opinion, Dean Koontz is the master of description. As for who else influences me? There are so many, I could go on forever...
Who is the person you would most like to be trapped in a lift with? or a spaceship?
Other than my life partner and best friend, Steve Wheeler, I really admire Stephen King. I keep a copy of On Writing next to my PC. I've seen him speak, and he's exceptionally articulate, wise, and can be pretty darn amusing. I also would love to have known Maya Angelou. What a lady! Did you know she was at one time an exotic dancer? Nicolai Tesla would be a fascinating person to be trapped with. Mary Oliver would be good company. However, since I'm having a difficult time deciding, I have to say "the person" would be Steve Wheeler for certain.
Who is the person you would most DISlike to be trapped in a lift with? Or a spaceship?
Rush Limbaugh. If I were trapped with him anywhere I would attempt murder, or suicide.
What would you pack for space? (Is there a food, beverage, book, teddy bear, etc that you couldn't do without?)
I hope I have a big case. I would pack the complete works of my favorite authors (mentioned earlier). Throw in Amy Tan, Carl Hiaasen, and Isabelle Allende, too. I need at least a thousand cases of good red wine. I'm partial to nice, mellow Pinot Noir, but I also like red zinfandel. I especially enjoy Seven Deadly Zins from Lodi, California, and any smoky, oaky, well-aged cabernet. Oh, hell, I love all good red wines. I'd want a minimum of 5,000 music cds, or 25,000 music downloads. Make that all kinds of music except gansta' rap, polka and death metal. Can I bring along my husband, Steve Wheeler, please? He's my best friend, and I wouldn't want to be in space without him. Of course, I'll need a laptop with good internet connection and...ooooh...my hot tub. It would be nice to pack my fifteen closest friends and family members, too. I suppose they would not fit into my case unless I remove the hot tub. I'll have to think that one over.
What is the most important thing you would like to get/achieve from your work?
I've been writing my entire adult life. I was a technical writer for twenty years. Over the last forty years, I've written and published a number of poems and non-fiction articles. I was a professional resume-writer for a while, too. I'm long in the tooth to begin writing fiction, but that's what I do, now. At age 60, I recently wrote, and sold, my first short story ever. My one greatest passion, in spite of being a grandma who is just getting a start, is novel writing. I've written two novels, and I'm nearly finished with a third, and have begun outlining a fourth. My goal is to legitimately publish at least twenty-five well-written books before I cross the rainbow bridge. My writing is my highest and best legacy to my daughter and grandchildren.
What is the special satisfaction of your work?
Writing is my all-time most important creative outlet. I'm happiest when concocting and scribing a good tale, especially if the story contains elements of supernatural chicanery, a bit of the macabre, and a taste of humor. As I write, I disappear into the deep zone where hours pass like minutes. Inventing and sharing good stories provides me with a sense of accomplishment, fulfillment, and authentic satisfaction in a way that nothing else does.
submitted by Peggy Wheeler
22 August 2014
For other answers to The Usual Questions Click here
Just the facts:
Born: California.
Resides: A tiny town in the Sierra Nevada Mountains of northern California.
Bibliography/Awards:
Peggy was one of only twelve students (and the only undergraduate) chosen to study with Robert Pinsky, former Poet Laureate of the United States. She won first prize awards for two of her poems from an Evergreen Women's Press nationwide poetry contest. Other poetry received honorable mentions from the judges of a Los Angeles Poetry Festival and The Academy of American Poets. Her poem, Du Fu was nominated for a Rhysling award for Best Science Fiction Poem. Her novel, "The Raven's Daughter," was named a top ten finalist in The Next Great Novel Competition for unpublished manuscripts.
Web site:
I have a Pinterest account, but I don't use it much, and I do not yet Twitter. I may never. Let people know I'm on Facebook.

For posts about Melbourne events, places, news, reviews, giveaways, see our Facebook Page: