---
---
Michael Yowell
answers the Usual Questions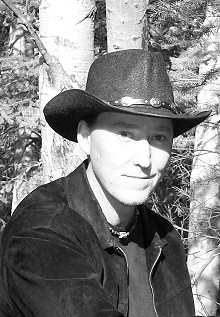 American author Michael Yowell says, "I love all things horror, whether they be books, movies, or stories told around a flickering campfire."
Has your interaction with fans, for example, at conventions, affected your work?
I have yet to attend a convention (hope to be invited to one soon!), but I do admit feedback from readers has affected my writing. For example, fan feedback from The Dogcatcher was the sole reason for my writing The Dogcatcher II.
Is there any particular incident (a letter, a meeting, a comment that stands out?
The most notable moment that inspired me was when I read the thousands of comments below my horror story Teddy being read by Mr. Creepypasta on YouTube.
Do you have a favourite author or book (or writer or film or series) that has influenced you or that you return to?
My initial inspiration, the One that opened the door to my twisted imagination, is Stephen King. I read the stories in Night Shift and knew I was a horror addict. Now, I also go back to other favorites like Clive Barker, Graham Masterton, Richard Matheson, and Dean Koontz.
Who is the person you would most like to be trapped in a lift with? or a spaceship?
If I were trapped in an elevator, it should be with a pizza delivery guy. If I'm trapped in a spaceship, let it be Sandra Bullock!
Who is the person you would most DISlike to be trapped in a lift with? Or a spaceship?
I think I would most dislike being stuck with an angry drunk.
What would you pack for space? (Is there a food, beverage, book, teddy bear, etc that you couldn't do without?)
I would pack a case of beer, electronic cigarettes, and my Kindle Fire.
What is the most important thing you would like to get/achieve from your work?
The most important thing I hope to achieve is to reach as many readers as possible and give them something entertaining that they will enjoy and remember.
What is the special satisfaction of your work?
Completing a book is the most satisfying part, like finishing a marathon after training for years.
submitted by Michael Yowell
26 July 2014
For other answers to The Usual Questions Click here
Just the facts:
Born: I was born in Denver, CO USA on April 10, 1969.
Resides: I currently live in Lakewood, CO, but am moving to Charleston, SC very soon (to the beach!).
Bibliography/Awards:
I have had short stories published four times, have released a book of my short stories Fragments And Shards, have written a great Western Red Pines, and (of course) my horror novels Devilhouse, The Dogcatcher, The Dogcatcher II: Chupacabras, and The Camera Eye. The reviews I've received on Amazon have made me happy.

For posts about Melbourne events, places, news, reviews, giveaways, see our Facebook Page: