---
---
Michael W. Sherer
answers the Usual Questions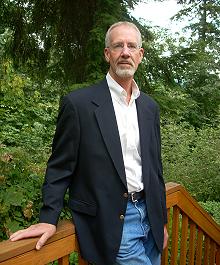 Has your interaction with fans, for example, at conventions, affected your work?
It inspires and motivates me. Most writers will tell you that they can't not write, and that's true for me. But we all want readers, too. Hearing their comments makes writing even more worthwhile.
Is there any particular incident (a letter, a meeting, a comment that stands out?
I'm grateful for all the comments I get from readers and fans. Recently, someone who occasionally reads my blog called me out, saying he thought I was whining in my blog. He was right. We traded several e-mails, and I think he's a bigger fan now, and I'm a better writer, because of it.
Do you have a favourite author or book (or writer or film or series) that has influenced you or that you return to?
Too many! There are several authors whose writing I admire so much I never tire of their books. Gregg Hurwitz, Tim Hallinan, Robert Crais, Lisa Unger, Jonathan Kellerman, Don Winslow and T. Jefferson Parker are probably at the top of my list.
Who is the person you would most like to be trapped in a lift with? or a spaceship?
My wife, Valarie.
Who is the person you would most DISlike to be trapped in a lift with? Or a spaceship?
Ayman al-Zawahri.
What would you pack for space? (Is there a food, beverage, book, teddy bear, etc that you couldn't do without?)
A Kindle, loaded with all the books I haven't had time to read.
What is the most important thing you would like to get/achieve from your work?
A decent living.
What is the special satisfaction of your work?
Working for myself and knowing that I create things so many people enjoy.
submitted by Michael W. Sherer
13 September, 2013
For other answers to The Usual Questions Click here
Just the facts:
Born:
Resides: Seattle area
Bibliography/Awards: See his web site
Web site: www.michaelwsherer.com
Twitter at @MysteryNovelist

For posts about Melbourne events, places, news, reviews, giveaways, see our Facebook Page: