---
---
Michael A. Ventrella
answers the Usual Questions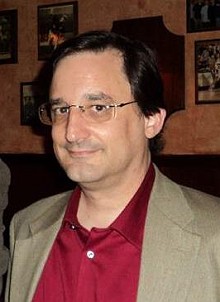 Michael A. Ventrella was born in Richmond, Virginia; currently resides in the beautiful Pocono Mountains of Pennsylvania. His website is www.MichaelAVentrella.com, where he blogs about writing and interviews authors, agents, and editors. In his spare time, he is a lawyer.
Has your interaction with fans, for example, at conventions, affected your work?
Mostly in the connections made. I meet other authors, agents and editors, and I learn much from them. I also have been asked to contribute to anthologies and invited to other conventions and seminars because of these connections.
Is there any particular incident (a letter, a meeting, a comment that stands out?
At a book festival recently, a woman came to me and the conversation went like this:
Her: "Remember me? You analyzed the first page of my book at a Writer's Seminar a few years ago and really tore it apart."
Me: "Oh?" (looks for exit)
Her: "Yes, and I was quite upset. Then, after I received many rejections for my book, I looked back over it and realized you were right. I made the changes and sold the book. So thank you!"
Me: Phew!
Do you have a favourite author or book (or writer or film or series) that has influenced you or that you return to?
It's hard to limit it to one. I think the Harry Potter books influenced by fantasy novels, in that I tried to meet the balance of excitement, fear and humor she employs in her work.
Who is the person you would most like to be trapped in a lift with? or a spaceship?
An elevator engineer and an astronaut would be nice. But to have someone just to talk to for a long time? Probably Paul McCartney (I'm a huge Beatles fan and I have so many things I'd like to talk to him about.) Or maybe Barack Obama (so I can ask for a White House job).
Who is the person you would most DISlike to be trapped in a lift with? Or a spaceship?
Rush Limbaugh, Glenn Beck, Sarah Palin, or any of those Tea Party idiots.
What would you pack for space? (Is there a food, beverage, book, teddy bear, etc that you couldn't do without?)
My computer. How could I check my Facebook posting and update my blog?
What is the most important thing you would like to get/achieve from your work?
Happy people who enjoy the books. That's the best reward!
What is the special satisfaction of your work?
Woody Allen once said, "Some people want to achieve immortality through their work or their children. I want to achieve immortality by not dying." I agree with him completely, but at the same time I like the idea that someone may still be reading my work after I'm gone.
submitted by Michael A. Ventrella
date
For other answers to The Usual Questions Click here
Just the facts:
Born: Richmond, Virginia
Resides: Pocono Mountains of Pennsylvania
Bibliography/Awards: 2008:
Arch Enemies
2010:
The Axes Of Evil
X Spots the Mark, Rum And Runestones
2011:
Tales Of Fortannis: A Bard's Eye View (editor)
The Zombie King's Plan, A Bard's Eye View
Get Kraken, Cutlass And Musket: Tales Of Piratical Skullduggery
2013:
The Jesus Secret, Twisted Tails Vii
Tales Of Fortannis: A Bard In The Hand (editor)
The Mystery of the Black-Bearded Dwarf, A Bard In The Hand
Hell, I Must Be Going, Dreamers In Hell
2014 (scheduled):
Tales Of Fortannis: A Bard Day's Knight (editor)
Bloodsuckers: A Vampire Runs For President

Web site: www.MichaelAVentrella.com



For posts about Melbourne events, places, news, reviews, giveaways, see our Facebook Page: