---
---
Michael Pryor
answers the Usual Questions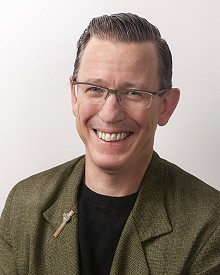 Your humble correspondent recently met Michael Pryor when he gave a talk for the National Trust on the History of Steampunk. He was dressed suitably in tails.
Says Pryor, "My writing moves from literary fiction to genre Science Fiction to slapstick humour, depending on my mood." He says, reading science fiction and fantasy is good for you because "it exercises the imagination. By reading about and participating in the alternative and the possible, readers are actively extending their thinking, their imagination... reading SF and Fantasy is a real work out for the mind."
Has your interaction with fans, for example, at conventions, affected your work?
Because I write for young people, most of my fan interaction comes via the internet. The greatest effect this has is that I'm constantly reassured that I have readers, and that they're enjoying my writing. This might sound a bit obvious, but the confidence this inspires makes me write better.
Is there any particular incident (a letter, a meeting, a comment that stands out?
One of my fans made a feather out of copper, referencing an incident in Blaze of Glory, the first book of my Laws of Magic series. She then etched it with a number of quotes from the book that she found inspiring. I was touched.
Do you have a favourite author or book (or writer or film or series) that has influenced you or that you return to?
Tolkien, inevitably, is a major influence. Maybe not directly, as I tend to shy away from his quasi-mediaeval Northern European milieu, but in the way he gave me license to imagine.
Who is the person you would most like to be trapped in a lift with? or a spaceship?
Who is the person you would most like to be trapped in a lift (elevator) with? or a spaceship? Apart from my wife? Someone influential in a major Hollywood movie studio. I've got plenty to talk to such a person about.
Failing that, David Attenborough.
True story: the only time I've ever actually got trapped in a lift, it was with the lift mechanic who'd been sent to do some routine maintenance. When it ground to a halt I looked at him and asked, 'What do we do now?'
He looked startled and said, 'No idea, mate.' I had to get on the lift phone and talk to the hotel reception who got things sorted ...
Who is the person you would most DISlike to be trapped in a lift with? Or a spaceship?
Brian Combin, the boy who sat behind me in fifth grade. He smelled.
What would you pack for space? (Is there a food, beverage, book, teddy bear, etc that you couldn't do without?)
A book: The Complete Works of Shakespeare. So many stories, so much humanity, and language used in a way that has never been equalled. It'd keep me occupied in the long, boring bits of the journey, because I'd finish and then start again at the start.
What is the most important thing you would like to get/achieve from your work?
Satisfaction. I have high standards for my writing and I'm constantly trying to meet them. As a reader I won't tolerate shoddiness of writing, plotting, characterisation, and as a writer I must strive to do my best in all these areas.
What is the special satisfaction of your work?
I know I shouldn't, but I love a good review (and I'm upset by a bad one). I should be self-assured enough to judge my own work, but ultimately it's the readers who count. If my work finds a substantial audience, that's the measure of how successful my writing is.
submitted by Michael Pryor
21 July 2014
For other answers to The Usual Questions Click here
Web site:
Narrative Transport, the official Michael Pryor website: www.michaelpryor.com.au

For posts about Melbourne events, places, news, reviews, giveaways, see our Facebook Page: