---
---
Louise Marley
answers the Usual Questions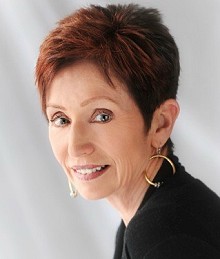 American author and singer Louise Marley says, "I began my working life at the age of 13, stacking hay bales on a Montana ranch, and since then I've worked as a cowgirl, as a nurse, as a folksinger, as an elementary school music teacher, as a concert and opera singer, a college music professor, and now as a writer and teacher of science fiction and fantasy. I knew from a very early age--5--that I wanted to be an entertainer, and I find very little difference between singing and writing."
Has your interaction with fans, for example, at conventions, affected your work?
I find conventions, and the conversations I have there, endlessly stimulating. I don't adjust my work with fan response in mind, of course, because that would be like creating by committee, the way Chinese opera composers did during the dark years, but I do find myself encouraged and made curious by the way readers react to a book or a story. I didn't discover sf conventions until I was already published, and I think I missed out on a wonderful source of information, inspiration, and community which, now that I know about them, I've enjoyed very much.
Is there any particular incident (a letter, a meeting, a comment that stands out?
I had a fabulous fan girl moment in a restroom at ReaderCon! That was lovely fun. Otherwise, I think the aggregate of these meetings is all positive.
Do you have a favourite author or book (or writer or film or series) that has influenced you or that you return to?
I may be the biggest Connie Willis fan in the world. She's one of very few writers I re-read, and I try never to miss anything she publishes. I also attend her workshops whenever I can. She's a fantastic teacher, and I could listen to her talk about writing more or less forever.
Who is the person you would most like to be trapped in a lift with? or a spaceship?
Nathan Fillion! (As Captain Mal, of course. Castle's fine, but . . . Mal had that great bad-boy personality.)
Who is the person you would most DISlike to be trapped in a lift with? Or a spaceship?
Sarah Palin. :-) I'm afraid violence would ensue.
What would you pack for space? (Is there a food, beverage, book, teddy bear, etc that you couldn't do without?)
Bach CDs, some of my favorite childhood reads, and a nice cushy blanket.
What is the most important thing you would like to get/achieve from your work?
I expect my agent, and my husband, too, would like me to be more businesslike about my work, but for me, writing is its own reward. I do like, and expect, to sell everything I write, but I'm not one of those who feel that it's an onerous occupation. I was a singer in my first career, and I suffered from the same thing -- I liked doing it too much to be very businesslike about it.
That being said, I would love to have a television of film adaptation of some of my books. I think Mozart's Blood, for example, would make a marvelous movie, and I would consult on the music. I also think The Terrorists Of Irustan would make a good film. It's a hard thing for a novelist to control, I'm afraid.
What is the special satisfaction of your work?
I feel honored and fortunate to have spent my life in the arts, and not just one form, but two of them! I don't know many people who have enjoyed that privilege, and I try never to forget to be grateful. Not only is it deeply rewarding, but now that I'm a working writer, I see no reason I can't go on doing it as long as I like!
submitted by Louise Marley
25 July 2014
For other answers to The Usual Questions Click here
Just the facts:
Born: August 15th, in Ross, California
Resides: The great Pacific Northwest
Bibliography/Awards:
My bibliography has gotten a bit long, if I may say that with modesty. There are now eighteen novels and a score of short stories, some of which have been reprinted several times. Most gratifying! The entire bibliography is at www.louisemarley.com, with links to www.catecampbell.net, which is the pseudonym for my historical novels.
Web site:
www.louisemarley.com
www.catecampbell.net
Louise Marley's Fan Page on Facebook.
Oh, please, please, come and 'like' me! :-)


For posts about Melbourne events, places, news, reviews, giveaways, see our Facebook Page: