---
---
Lisa Mason
answers the Usual Questions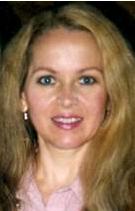 Has your interaction with fans, for example, at conventions, affected your work?
Fans and readers are what make the lonely pursuit of writing all worthwhile.
Is there any particular incident (a letter, a meeting, a comment that stands out?
Whenever someone approaches me for an autograph or contacts me online and tells me one of my titles is his or her favorite book, that's memorable. Luckily, that's happened more than once.
Do you have a favourite author or book (or writer or film or series) that has influenced you or that you return to?
I don't have a single answer. I still love the books I read as a child, E.B. White's Charlotte's Web and P.L. Travers' Mary Poppins. These days, I read many different genres and appreciate authors in them all. In urban fantasy, I like Charlaine Harris. In comedic romantic suspense, I like Janet Evanovich. Sue Grafton is always good for a woman detective. I reread the classics, too. Raymond Chandler for hardboiled mysteries, Edith Wharton for fin de siècle commentaries on marriage. Ursula K. Le Guin for women's science fiction. Frank Herbert for epic science fiction. The list goes on.
Who is the person you would most like to be trapped in a lift with? or a spaceship?
I can't think of anyone I'd like to head out into space with other than my husband, Tom Robinson. I know just what we'd argue about.
Who is the person you would most DISlike to be trapped in a lift with? Or a spaceship?
A whole lot of nasty people appear on this list. Too many to mention.
What would you pack for space? (Is there a food, beverage, book, teddy bear, etc that you couldn't do without?)
A great bottle of Napa Valley chardonnay, well chilled. The space ship would have to have refrigeration. Give me some smoked salmon, too, and I'm good to go.
What is the most important thing you would like to get/achieve from your work?
A vast readership because that would mean people understand and appreciate what I'm writing about.
What is the special satisfaction of your work?
The opportunity to express my deepest thoughts and sentiments about life.
submitted by Lisa Mason
1 Sep 2013
For other answers to The Usual Questions Click here
Just the facts:
Born: I was born in the heart of the American Midwest, graduated from the University of Michigan, College of Literature, Sciences, and the Arts, and the University of Michigan Law School. I briefly practiced law in Washington D.C., then headed west to California.
Resides: I live in the San Francisco Bay Area with my husband, the renowned artist and jeweler, Tom Robinson.
Bibliography/Awards: I'm the author of nine novels, including Summer of Love (Bantam), a San Francisco Chronicle Recommended Book and Philip K. Dick Award Finalist, and The Golden Nineties (Bantam), a New York Times Notable Book and New York Public Library Recommended Book.
My new book, Strange Ladies: 7 Stories, is a delightful collection of fantasy and science fiction published in top magazines and anthologies worldwide.
Tomorrow's Child, published in Omni Magazine as a lead story, sold to Universal Pictures and is presently in development.

Web site: Visit me at Lisa Mason's Official Website for books, ebooks, stories, and screenplays, forthcoming projects and more, on Lisa Mason's Official Blog, on my Facebook Author Page, on my Facebook Profile Page, on Goodreads, on LinkedIn, on Twitter at @lisaSmason, on Amazon, at Smashwords, and at Science Fiction and Fantasy Writers of America.


For posts about Melbourne events, places, news, reviews, giveaways, see our Facebook Page: