---
---
Kody Boye
answers the Usual Questions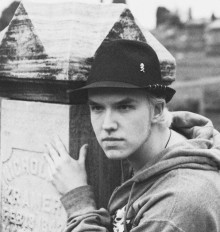 'Dark Genre' writer Kody Boye began his writing career with the publication of his story [A] Prom Queen's Revenge at the age of fourteen.
Has your interaction with fans, for example, at conventions, affected your work?
It always reminds me that people who seek me out (either in public or online) are interested in what I do, which always encourages me to continue even when I'm struggling.
Growing up, support outside my immediate family was rare, and let's be honest - your family will support you in (almost) everything you do, so you get a bit jaded from it after a while.
Is there any particular incident (a letter, a meeting, a comment that stands out?
I am always honored when international readers who don't have a grasp of the English language reach out to me. Most of these messages are prefaced or ended with, 'Sorry about my English,' but the fact that they take time out to do something that, oftentimes, is outside their comfort zone is a huge honor for me.
Do you have a favourite author or book (or writer or film or series) that has influenced you or that you return to?
Given that it was the first horror novel I read, I would have to say Stephen King's Bag of Bones. It inspired me to venture into the genre and ultimately helped shape my style.
Who is the person you would most like to be trapped in a lift with? or a spaceship?
I identify a lot with Marilyn Monroe for varying reasons (I tattooed the birthmark she had on her face on my own for a reason.) I'm not sure how she would take to space travel, though.
Who is the person you would most DISlike to be trapped in a lift with? Or a spaceship?
My gut reaction instantly made me think of Jeffrey Dahmer.
What would you pack for space? (Is there a food, beverage, book, teddy bear, etc that you couldn't do without?)
Diet soda. And my cat (though packing her would probably be tricky.)
What is the most important thing you would like to get/achieve from your work?
I've achieved what I wanted already: acknowledgement. As a child, I dreamed of writing stories, sharing them, and then having others tell me they've liked (or even loved) my work.
What is the special satisfaction of your work?
Completion.
submitted by Kody Boye
12 August 2014
For other answers to The Usual Questions Click here
Just the facts:
Born: Southeastern Idaho, April 1992
Resides: Austin, TX
Bibliography/Awards:
Amorous Things
The Beauty that Is Us (as K.J. Boye)
Blood (The Brotherhood, #1)
Death (The Brotherhood, #3)
The Diary of Dakota Hammell
His Touch of Ice
The Midnight Spell (with Rhiannon Frater)
Sword (The Brotherhood, #2)
Wraethworld

Web site:
www.kodyboye.com

For posts about Melbourne events, places, news, reviews, giveaways, see our Facebook Page: