---
---
Joe L. Murr
answers the Usual Questions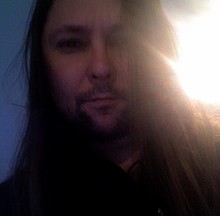 Joe L. Murr has lived on every continent except Antarctica. His fiction has been published in magazines and anthologies such as Beneath Ceaseless Skies, Chizine, Helsinki Noir (Akashic Books), Noir Nation, and Phantom Drift.
Has your interaction with fans, for example, at conventions, affected your work?
Definitely. Years ago, I mainly wrote for performance. A group of us put on shows, a mix of prose, poetry and stand up comedy. Performing really helped me to figure out how to write for an audience. You can't beat instant feedback.
Is there any particular incident (a letter, a meeting, a comment that stands out?
The first time a complete stranger told me she loved something I wrote. That felt unreal.
Do you have a favourite author or book (or writer or film or series) that has influenced you or that you return to?
My biggest influences are J.G. Ballard, Clive Barker, and Charles Willeford.
Who is the person you would most like to be trapped in a lift with? or a spaceship?
David Bowie. On a spaceship.
Who is the person you would most DISlike to be trapped in a lift with? Or a spaceship?
I'm not naming names. But every single politician I've met socially has been a bore.
What would you pack for space? (Is there a food, beverage, book, teddy bear, etc that you couldn't do without?)
Coffee.
What is the most important thing you would like to get/achieve from your work?
I enjoy the thrill of discovery and being pushed out of my comfort zone. I'm restless and try not to write the same kind of story twice. I genre-hop, try out different techniques, and generally make a mess. That said, maybe I'm settling down a bit, because I'm working on a traditional crime novel.
What is the special satisfaction of your work?
When I try something that I've never done before and it works. That's why I mainly write short stories. If one of them fails, it's no big deal. I'm all about learning how to fail better.
submitted by Joe L. Murr
14 August 2014
For other answers to The Usual Questions Click here
Just the facts:
Born: Finland
Resides: Netherlands
Bibliography/Awards:
See his web site
Web site:
www.joelmurrauthor.com


For posts about Melbourne events, places, news, reviews, giveaways, see our Facebook Page: