---
---
David North-Martino
answers the Usual Questions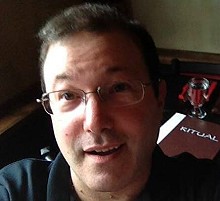 David North-Martino is an American author. His short fiction has appeared in numerous fiction venues. When he's not writing, David enjoys studying and teaching martial arts.
Has your interaction with fans, for example, at conventions, affected your work?
I wrote a story called Malfeasance, which appears in Epitaphs: The Journal of the New England Horror Writers anthology, published in 2011.
Later that year, I read a portion of that story at AnthoCon (a small multi-genre convention located in Portsmouth, New Hampshire). The audience had a visceral reaction to my work, even gasping at a passage or two. Not only was this personally gratifying, but the story I had written was more along the lines of a thriller, and although I had been thinking about it for awhile, the experience cemented in my mind that I wanted to put more energy into thrillers, specifically in the novel format.
Is there any particular incident (a letter, a meeting, a comment that stands out?
One incident that stands out was the first time a reader approached me at a convention to say that he enjoyed my novel. Another was when a reader contacted me through email to let me know that after reading one of my horror stories he had to sleep with the lights on.
Do you have a favourite author or book (or writer or film or series) that has influenced you or that you return to?
I think every author I've read has influenced me in some way. There are too many authors and books to mention, but I'll do my best to be brief.
In 1985 I read Darklings by Ray Garton and that novel inspired me, and made me want to write long fiction, especially horror. In the 1980s I was a huge fan of Stephen King's work. I've been particularly influenced by his sense of characterization.
More recently, writers like David Morrell and F. Paul Wilson, who have written in both the thriller and horror category, have become a big influence in my writing.
Who is the person you would most like to be trapped in a lift with? or a spaceship?
My wife. She's my best friend, and I wouldn't want to be anywhere very long without her.
Who is the person you would most DISlike to be trapped in a lift with? Or a spaceship?
I can get along with just about anyone, but there are few people I could put up with, or who could put up with me, in that sort of a situation. Ha!
What would you pack for space? (Is there a food, beverage, book, teddy bear, etc that you couldn't do without?)
I'd need my Macbook Pro, Kindle, some freeze-dried acid reduced coffee, and some martial arts gear.
What is the most important thing you would like to get/achieve from your work?
Financial freedom. A writer can dream, can't he?
What is the special satisfaction of your work?
Writing well and being acknowledged for it are both tremendously satisfying.
submitted by David North-Martino
23 August 2014
For other answers to The Usual Questions Click here
Just the facts:
Born: Boston, Massachusetts, USA.
Resides: I live in a small town on the border of Rhode Island.
Bibliography/Awards:
Novels/Novellas:
Wolves Of Vengeance
Numerous short stories published in magazines.

Web site:
davidnorthmartino.com
Facebook


For posts about Melbourne events, places, news, reviews, giveaways, see our Facebook Page: