---
---
Daniel Ribot
answers the Usual Questions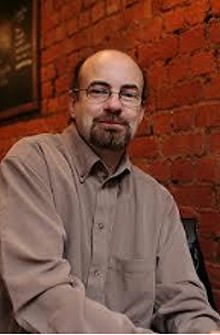 Has your interaction with fans, for example, at conventions, affected your work?
So far I've been lucky in that most of my readers have enjoyed Vampsov. It is particularly pleasing when some of the elements I tried to be less obvious about (for example, there is a subplot with a gay character who is persecuted by the Soviet authorities that I weaved into the story that many readers picked up on), strike a chord with readers.
Not every comment has been complimentary of course, and I have tried to step back and accept any criticism and try and do better next time. Obviously I take the opinion of readers very seriously and try and take on board their views if I possibly can.
Is there any particular incident (a letter, a meeting, a comment that stands out?
One Amazon review did bring a lump to my throat. It was quite complimentary of the book overall, but went on to praise the character Vassily: a shy Bolshevik vampire I've had living in my head for many years now.
To find that I've been able to create a fictional character that has become alive for someone else... well, it is an amazing feeling.
Do you have a favourite author or book (or writer or film or series) that has influenced you or that you return to?
The book I keep returning to is Michael Moorcock's Dancers at the End of Time trilogy. It is just such a great story! It combines elements of high adventure, fantasy, SF, brilliant dialog and humor with a crackling multilayered plot. Oh, and it probably invented Steampunk along the way too!
Who is the person you would most like to be trapped in a lift with? or a spaceship?
Michael Palin (from Monty Python)
Who is the person you would most DISlike to be trapped in a lift with? Or a spaceship?
Sarah Palin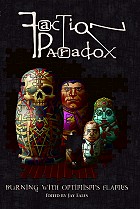 What would you pack for space? (Is there a food, beverage, book, teddy bear, etc that you couldn't do without?)
Lots of coffee... can't do without that. And nail clippers. Not going to space just to end up chewing off my own toenails!
What is the most important thing you would like to get/achieve from your work?
Well, I remember someone saying (can't remember who) that writing is a series of failures waiting to happen. You can fail to write, fail to finish your novel, finish but fail to edit it properly, fail to get published, publish and fail to sell your books, Sell books but fail to write a next book and so on. I think I have achieved progress and I now fail at a much higher level than I used to. Long may this journey continue! So to answer the question, I want to be the best failure I can possibly be.
What is the special satisfaction of your work?
The best bit of being a writer is when people tell you they enjoyed reading your book or that it made them stop and think. That's it really, the fact that you have provided a few hours of enjoyable escapism to people.
submitted by Daniel Ribot
14 August 2014
For other answers to The Usual Questions Click here
Just the facts:
Born: I was born in Valencia (Spain) and moved around with my parents to a number of cities including Zaragoza and Barcelona.
Resides: I now live in Leicester in the UK. We've just found a Shakesperean king (Richard III), who has lain buried under a car park in the city for 400 years. Not bad, huh? Leicester also has a Gallowtree Gate and a Frog Island with no frogs in it (and it's not even an island!). The place is, in my opinion, the magic-realist capital of England.
Bibliography/Awards:
Novel:
Vampsov 1938: A Spectre Haunting Europe, (Omnium Gatherum Press, 2013).
Anthologies:
La Santa Muerte, in the Faction Paradox Anthology 'Burning With Optimism's Flame' edited by Jay Eales (Obverse Books, 2013).
Short Stories:
Grandfather's Axe, Aphelion (144), vol 14, 2010.
Life in Film,Sex and Murder (15), vol 1, 2010.
Gateway,Dead Man's Tome, March 2011.
64 Deaths For Alistair,Project Nemesis, 2014.
Click here for more

Web site:
Website
Publishers
Facebook


For posts about Melbourne events, places, news, reviews, giveaways, see our Facebook Page: