---
---
Candice Fox
answers the Usual Questions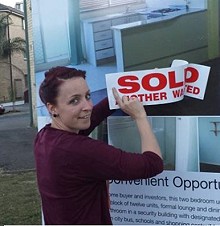 Has your interaction with fans, for example, at conventions, affected your work?
I don't have many fans yet, as I'm answering these questions before the book has been released (although you can pre-order on the links below). But I have had interactions with readers I don't know at the publishers offices, and through translators of the overseas editions. I guess initially it was daunting, because they'd enjoyed the book so much, and I'm in the process of writing book two. I'm still learning to forget that I'm now writing for a reading public, and relax back into the old dark Candice that just enjoyed writing in order to disturb herself.
Is there any particular incident (a letter, a meeting, a comment that stands out?
At my first publicity meeting a woman I didn't know told me she couldn't read my book at night because it disturbed her so much, got her thinking frightening thoughts. I thanked her very much.
Do you have a favourite author or book (or writer or film or series) that has influenced you or that you return to?
Peter Temple taught me how to write dialogue (and I say that hoping that I've lived up to his incredible standard). John Connolly's Charlie Parker series taught me about restrained melancholy and the depth of a man's devotion.
Who is the person you would most like to be trapped in a lift with? or a spaceship?
Stephen King. Man knows how to tell a tale. I reckon the time would fly by.
Who is the person you would most DISlike to be trapped in a lift with? Or a spaceship?
Anyone politically enthusiastic.
What would you pack for space? (Is there a food, beverage, book, teddy bear, etc that you couldn't do without?)
I'd take my dog, Crumpet. It's not that I couldn't do without her; I just really think she'd enjoy space.
What is the most important thing you would like to get/achieve from your work?
I'd like to be able to find my footing as a consistent Australian writer, so that I can keep bringing my work to the public. It's not the money or the fame I'm after, and never has been -- it's the ability to make my art a vein in my life, and not something that has to be shoved aside at any minute for higher priorities.
What is the special satisfaction of your work?
Watching people hit the last few chapters and begin to turn the pages faster. I try to taper off the work with intensity, because that's what it's like writing those last few pages. A rush. A painful and desperate sprint.
submitted by Candice Fox
22 Nov 2013
For other answers to The Usual QuestionsClick here
Just the facts:
Born: November, 1985, Darlinghurst, Sydney
Resides: Sydney, Australia
Bibliography/Awards:
Fox, C. J. (2012) 'The Poetry of Survival: The Shifting Landscape of Poetry in the Australian Publishing Industry,' TEXT Journal, Vol. 16, No. 2, October 2012
Fox, C. J. (2013) Hades, Bantam Press, Random House Australia, Sydney
Fox, C. J. (2014) Eden, Bantam Press, Random House Australia, Sydney (forthcoming)

Web site:
Facebook
www.candicefoxauthor.com
Twitter
Random House author entry


For posts about Melbourne events, places, news, reviews, giveaways, see our Facebook Page: