---
Home > New Stuff and Changes > Contributors List
---
Festivale Contributor's Profile
Luke Buckmaster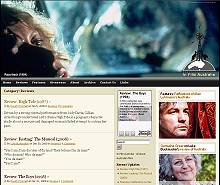 Luke is Melbourne-based writer who, in addition to editing In Film Australia (www.infilm.com.au) contributes to publications such as The Age, The Sun Herald and Filmink Magazine. He is currently Treaurer of the Australian Film Critics Association, and over the years has written for a number of other outlets including the Big Issue, Urban Cinefile and Zest for Life magazine.
He also appears on Newcastle Radio 2HD's Luke Grant For Breakfast every Thursday morning. Luke has acted as a guest panellist (National Young Writers Festival), a short film judge (In on the Filmmaker festival) and has completed a short course on screen writing at the Melbourne School of Film and Television.
Some of Luke's film reviews and commentary are published in Festivale.
Website: In Film Australia
For posts about Melbourne events, places, news, reviews, giveaways, see our Facebook Page: