---
---
A Reel Life film section
Issue: April 2016
NT Live Les Liaisons Dangereuses (2016) filmed performance review
Love, Dangerously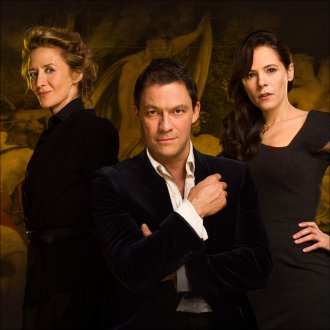 National Theatre Live brings the Donmar Warehouse's highly anticipated new production of LES LIAISONS DANGEREUSES to cinemas. Directed by Josie Rourke (Coriolanus), the cast includes Michelle Dockery (Downton Abbey), Janet McTeer (The White Queen) and Dominic West (The Wire).
In 1782, Choderlos de Laclos' novel of sex, intrigue and betrayal in pre-revolutionary France scandalised the world. Two hundred years later, Christopher Hampton's irresistible adaptation swept the board, winning the Olivier and Evening Standard Awards for Best Play. Josie Rourke's revival now marks the play's thirty year anniversary
Choderlos de Laclos wrote Les Liasions Dangereuses because he wanted to create something immortal. He chose a story set in his own time about sex, love, manipulation and betrayal.
National Theatre Live films performances and sends them around the world, so that we can sit in distant theatres and enjoy the experience of excellent plays staged, directed, and performed by excellent craftspeople.
This is not my first 'live' performance, but it is the best I've seen so far. Screened at Cinema Nova in Melbourne, the audience could sip wine from the bar and watch international-quality entertainment.
The Donmar Warehouse theatre has a stage with the audience on three sides. There is no curtain, so set changes are imaginative and minimal. Director Josie Rourke uses members of the cast to move through the set, changing, adding, removing, and passing off the scene from character to character. The small performances during the change are fascinating.
As for the main performances, the actors were compelling. Les Liasions Dangereuses is witty, it's themes are contemporary (or universal), and the actors have a range of emotions to play with. Dominic West as Valmont is extraordinary. His expressions, his body language, his tone, is pitch perfect. Janet McTeer as Marquise de Merteuil is strong, arguing that her manipulation of men is the only profession and education that society has permitted her. McTeer's performance runs from sexy to devious to vulnerable, and her voice gives Merteuil gravitas.
Anjoa Andoh as Madame de Volanges was a revelation to your humble reviewer. As Mrs Jones in Dr Who she was a believable everyday woman. As Madame de Volanges she plays an aristocrat. Les Liaisons Dangereuses is a colour-blind production, Mme de Volanges is dark, her daughter Cecile (Morfydd Clark) is blonder-than-blonde. Jennifer Saayeng as the courtesan is delightfully uninhibited.
There have been many interpretations of Les Liasions Dangereuses, and previously Cruel Intentions was my favourite, but this has taken first place for pace, script, performances and staging. Take an evening out and go to the theatre, there is nothing like the dynamic of actors in front of a live audience.
by Ali Kayn
Australian release 9 April 2016
For credits and official site details, see below
Search Festivale for more work by the film-makers below.
See also:

See more films to be released in April 2016

Buy the book in English from Amazon.com

for movie, TV show, or person

Just the facts:

Title: NT LIVE LES LIAISONS DANGEREUSES (2016)
Written by: Christopher Hampton (play), Choderlos de Laclos (novel)
Directed by: Josie Rourke
Running time: mins
Rating:

---

The Players: Elaine Cassidy, Dominic West, Una Stubbs, Janet McTeer, Anjoa Andoh, Morfydd Clark

---

Official website: http://www.nationaltheatre.org.uk/discover/national-theatre-live-les-liaisons-dangereuses
IMDb entry

---

For session times of current films, use the cinema listings on the Movie links page. For scheduled release dates, see the coming attractions section.

For more information about this movie, check out the internet movie database (IMDb).
For the latest additions to Festivale, check out the change history section.
For posts about Melbourne events, places, news, reviews, giveaways, see our Facebook Page: