---
---
A Reel Life film section
Issue: Winter 2016
Dirty Grandpa (2016) movie review
How Low Do You Want to Go?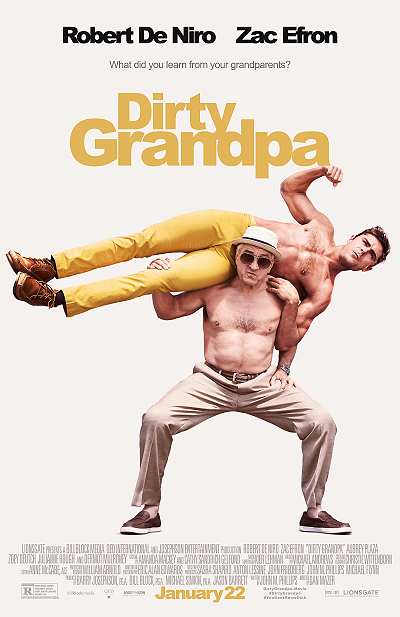 Right before his wedding, an uptight guy (Zac Efron) is tricked into driving his grandfather, a lecherous former Army Lieutenant-Colonel (Robert De Niro), to Florida for spring break
Jason's grandpa has just lost his wife from a long fight with cancer. He behaves beautifully at the funeral, but come the next day and he decides to grab life by the proverbial. He hasn't had sex in 15 years, and he's ready to go after it without any shyness. Jason is your typical lawyer-who-could-have-been. In this case he gave up photography to follow in his father's (Dermot Mulroney) conservative footsteps.
Jason is a week away from acquiring the typical corporate wife. Meredith has gone completely bride. She makes Jason choose the colour of the groomsmen's ties during his grand mother's funeral. We quickly have her pegged as the perfect wife who really isn't.
Grandpa needs a ride to Florida, and Jason is elected. He rapidly discovers that grandpa isn't going quietly into that good night.
So Dirty Grandpa establishes early on that things have to change. Naturally they meet a free-spirited woman of Jason's age along the way, and the film becomes a sort of road movie meets spring break movie.
From the moment Jason and Grandpa climb into Meredith's pretty pink mini, the language and the general level of the movie takes a nose dive of epic proportions.
I thought five-year-olds liked to shock people by using 'naughty' words, and that they got over it, but Dirty Grandpa is just line after line of how low can you go.
It's not clever. It's not witty. It's vulgar and unworthy. Vuglarity is fine in its place, but it should not replace good dialogue.
If you like sophomoric humour and formulaic comedies, that by all means grab a ticket. If you want something more from a writer than an demonstration of the command of blue language, look elsewhere.
Links to official sites below
by Ali Kayn
Australian release 28 Jan 2016
US release 28 Jan 2016
For credits and official site details, see below
Search Festivale for more work by the film-makers below.
See also:

for movie, TV show, or person

Just the facts:

Title: Dirty Grandpa (2016)
Written by: John Phillips
Directed by: Dan Mazer
Running time: 102 mins
Rating: MA15+

---

The Players: Robert De Niro, Zac Efron, Zoey Deutch, Aubrey Plaza, Dermot Mulroney

---

Official website: http://www.dirtygrandpa.movie
IMDb entry

---

For session times of current films, use the cinema listings on the Movie links page. For scheduled release dates, see the coming attractions section.

For more information about this movie, check out the internet movie database (IMDb).
For the latest additions to Festivale, check out the change history section.
For posts about Melbourne events, places, news, reviews, giveaways, see our Facebook Page:
Buy from Amazon