---
---
A Reel Life film section
Issue: Autumn 2016
Alice Through the Looking Glass (2016) movie review
Through the Looking Glass Darkly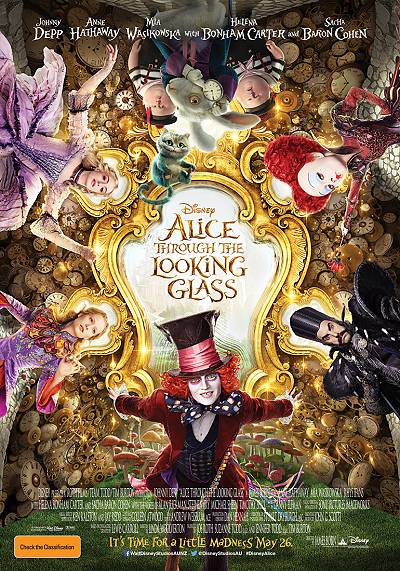 Disney's Alice is updated for the modern audience. Well, that's obvious. They let us know that in the last film, and diverged even further this time.
Jeff points out that book-Alice, a child, goes from scene to scene, meeting others (adults) who, act strangely for no reason. Film-Alice, apparently, is delving into the back stories of those adults. That's what we do to stories these days.
But is it successful?
We focus our attention, unsurprisingly, on the Hatter. Who never gets referred to as the Mad Hatter. There's a reason for that. The film explores his madness. We discover that his friends, who love and accept his madness (eccentricity), are very concerned about his sudden madness (mental ill health). Something has happened to the Hatter, and he's not himself. Wonderfully, the friends recognise that he is "sick", and they want to help him, and they do. That's what the rest of the story is about. Underland is a pretty good place when it comes to coping with mental health challenges.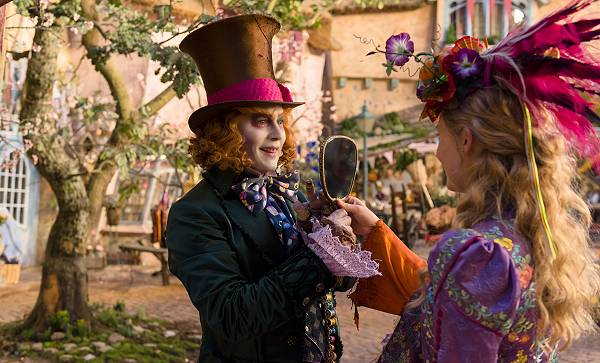 The means they use to help him are so far from the book, it's hard to recognise this as a Wonderland story. I don't want to spoil it for you, but they have a go at a classic science fiction device. But at least, they find a newish twist on it, and resolve the story satisfactorily.
It is dark and gruesome in parts. Like, really dark. Like, don't take young children, or sensitive adults. I wondered if it was too much.
We saw the film in IMAX. First of all, let's take our funny-shaped hats off to the IMAX staff for putting on a great screening. I expect you won't be pampered quite as much as we were when you go, but those comfy seats, that big screen and that great sound will clearly be there for you. This was a odd film to see on the huge screen. I was a little distracted by the details of eye makeup (which is very much a feature of this film). On the bright side, I think I could sketch it for you even now.
We do learn why the Red Queen's head is so big. At last. Heaven forbid we should be left like children, wondering why all the grownups are so strange.
Sacha Baron Cohen's character is new. His metaphor works rather well, I thought. He gives the other characters a chance to indulge in a full scene of horrendous puns. Now THAT is Carroll.
Alan Rickman plays a tiny role. I had forgotten how much I missed him. The film is dedicated to him.
There's some stuff about families. It's worthy, but it also feels a bit tacked on. We hardly meet the family in question. Oh, good heavens, now I'm doing it, asking for more back story.
And I just have to add, Alice's character = awesome. She's a sea captain now (remember, she inherited her father's ship). And she gets to do heroic stuff, and impossible things, and it's completely awesome. More of that please. You could write her into Pirates of the Caribbean, no problems, and it would be much improved as a result.
Costumes, fabulous. I want Alice's dress. She's been travelling now, did you not think she'd bring anything back?
So there's my inconclusive review. There's much to enjoy, it's scary, it's pretty, it's imaginative. It mostly hangs together. Why not enjoy it?
by Pauline Laing
Australian release 26 May 2016
For credits and official site details, see below
Search Festivale for more work by the film-makers below.
See also:

for movie, TV show, or person

Just the facts:

Title: Alice Through the Looking Glass (2016)
Written by: Lewis Carroll (novel); Linda Woolverton (scr)
Directed by: James Bobin
Running time: 108 mins
Rating:

---

The Players: Johnny Depp, Mia Wasikowska,Anne Hathaway, Helena Bonham Carter, Alan Rickman, Sacha Baron Cohen, Michael Sheen, Stephen Fry, Lindsay Duncan,

---

Official website: http://movies.disney.com.au/alice-through-the-looking-glass
IMDb entry

---

For session times of current films, use the cinema listings on the Movie links page. For scheduled release dates, see the coming attractions section.

For more information about this movie, check out the internet movie database (IMDb).
For the latest additions to Festivale, check out the change history section.
For posts about Melbourne events, places, news, reviews, giveaways, see our Facebook Page: