---
---
A Reel Life film section
Issue: March 2016
Bridge of Spies (2015) movie review
Cold Warrior
During the Cold War, an American lawyer is recruited to defend an arrested Soviet spy in court, and then help the CIA facilitate an exchange of the spy for the Soviet captured American U2 spy plane pilot, Francis Gary Powers.
James B. Donovan (Tom Hanks) is an experienced negotiator. As a lawyer he specialises in insurance lawyer. He is an ordinary, polite, educated, everyman. He has a family, he travels to work on the train, and when Rudolf Abel (Mark Rylance) is arrested for espionage, Donovan finds himself nominated to provide the best defence America can give.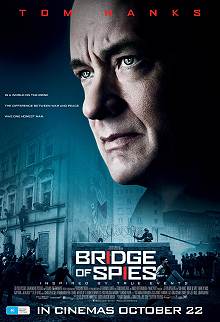 It's a noble calling that nobody wants, because in the height of the hysteria and hatred, who wants to be associated with a communist spy? But Donovan's boss (Alan Alda) prevails.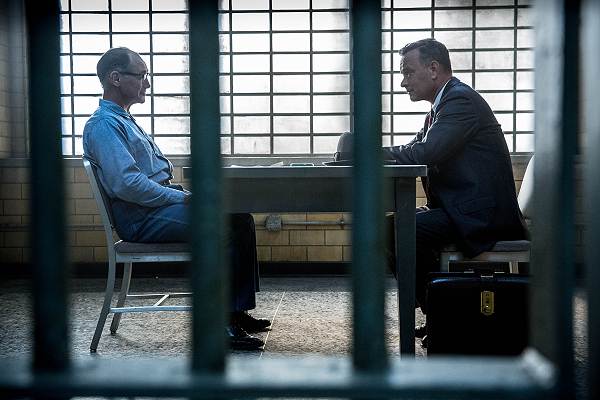 Donovan and his family discover just how deeply the hatred goes as the trial progresses. He loses, but persuades the judge not to decide on the death penalty because Abel was an insurance policy against the possibility that the U.S. might want to swap him for a spy of their own.
Which is where some of us will flash back to the TV movie Francis Gary Powers: The True Story of the U-2 Spy Incident with Lee Majors (1976).
Suddenly, Donovan is called upon to negotiate once again, this time with the Russians for the return of a downed pilot from a spy plane.
Set in 1957, this film does paint a picture of the kind of hysteria that caused people to hunt down communists and their sympathisers (see Trumbo). Children are taught to "duck and cover" to shield themselves from nuclear blasts.
Donovan is played by Hanks as an everyman (with a legal brain). He has a strong sense of right and wrong, and empathy, and these drive his actions.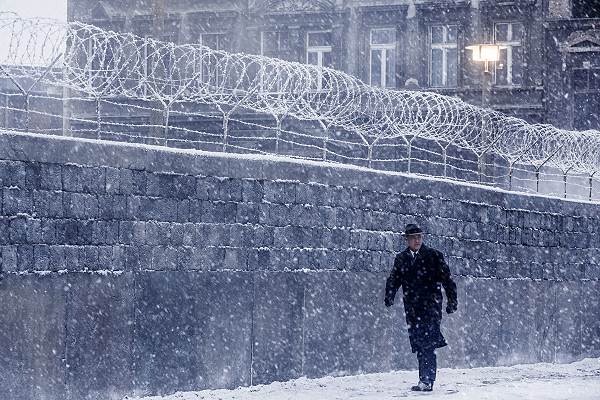 In a strange way, this version of the story has heroes on both sides of the cold war, and bad guys on both sides of the Cold War.
One of Spielberg's better directing efforts, Bridge of Spies is a strong film with a compelling story that relies on the writing and the acting, not loud special effects and music.
Recommended.
by Ali Kayn
Australian release 22 Oct 2015
For credits and official site details, see below
Search Festivale for more work by the film-makers below.
See also: Trumbo

for movie, TV show, or person

Just the facts:

Title: Bridge of Spies (2015)
Written by: Matt Charman, Ethan Coen, Joel Coeni
Directed by: Steven Spielberg
Running time: 142 mins
Rating: M

---

The Players: Tom Hanks, Mark Rylance, Alan Alda,

---

Official website: http://bridgeofspies.com/
IMDb entry

---

For session times of current films, use the cinema listings on the Movie links page. For scheduled release dates, see the coming attractions section.

For more information about this movie, check out the internet movie database (IMDb).
For the latest additions to Festivale, check out the change history section.
For posts about Melbourne events, places, news, reviews, giveaways, see our Facebook Page: