Shrine of Remembrance
Kings Domain, Melbourne
The National War Memorial of Victoria.
On the 4th of August, 1921 attendees at a public meeting decided to build a permanent memorial to the some 18,000 Victorians who did not return from World War I.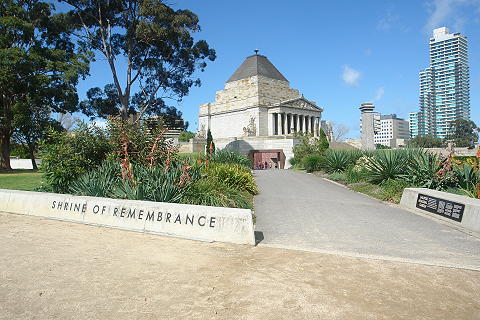 The Shrine was completed in 1934. After the second World War (1939 -1945) the Forecourt with its flags and statuary were commissioned to commemorate the lives lost in that war. The Perpetual Flame was lit on 28th February, 1954 by Her Majesty the Queen. The forecourt was completed the following year.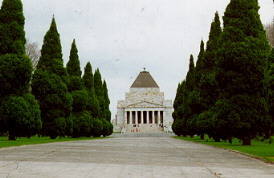 At 11 a.m. on November 11 each year, a ray of sunlight strikes through the roof to fall directly on the centre of the Stone of Remembrance in the Inner Sanctuary.
Most of the trees surrounding the shrine have been planted by unit organisations and representatives of Australia's war-time allies.
New memorials continue to be erected as Australians lose their lives in armed conflicts.