The fact that Patrick Swayze is now in the spotlight doesn't bother me, but his character - a macho man trucky - is so full of testosterone packed stunts and attributes that he has lost all hope of fooling us into believing that his adventures could happen to anyone.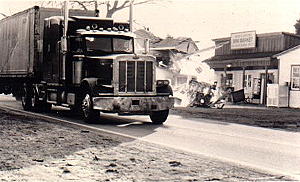 Swayze is all over the place as Jack Crews - a gliding, clinging and recklessly driving individual who we are expected to believe is an ordinary guy.  Crews agrees to drive a truck (which he doesn't know is full of artillery) for ten thousand big ones when him and his wife (Brenda Strong) are unable to produce enough funds to keep their house. The babbling and ironical bible quoting "boss" (Meatloaf) sets the operation up, but there is more to his twisted plan than simply delivering the weapons.  Thus, Crews enters a (yawn) web of deceit, double-crossing, mendacity and murder.  Naturally, the head bad guys are left to last, and Cruise's family is an obvious target for bribery.
The many action scenes - which are, no doubt, the films core and selling point - are surprisingly dull, repetitive and boring.  They focus on Crews and his small band of idiots, who attempt to rid the road of the many bad guys out to kill 'em. Much to the viewers annoyance, it just goes on and on and on, without doing anything distinctly different.
For many years I've found myself enjoying corny action flicks, but The Black Dog pushed itself way beyond the boundaries of my passion.  It not only failed to impress, innovate or engage me - but it actually made me wonder why I liked these types of films in the first place.