Duvall plays Euliss "Sonny" Dewell, an intriguing Pentecostal preacher with a wandering eye for women and booze. Flawed, yes, but he is completely devoted to his faith and his church.  Perhaps a little too devoted, since he clubs a younger man of the cloth (Todd Allen) on the head with a baseball bat after he assists in taking the church away from him.  Realizing that he's gone too far, Sonny flees town and seeks refuge in Bayou Boutte, Louisiana.  He dubs himself as "The Apostle E.F," and starts a new church named The One Way Road to Heaven with the assistance of retired preacher Reverend Blackwell (John Beasly).

In its worst moments, The Apostle will serve as a reminder of how much potential it had. But nowadays many films seem to thrive on potential alone - recent examples Deep Impact, Welcome to Sarajevo and Sphere all have fascinating concepts, but their finished product didn't quite go the distance.  Such is the story with The Apostle, which has potentially riveting subject material but is over worked and indefinable.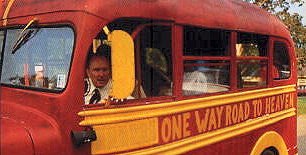 I never quite understood what Duvall's motives were - is he trying to show us ironies of the Christian faith?  Is he giving us a lesson on redemption, or merely pointing out that even devoted men have flaws?  Or is the entire film just a study of human behavior?

None of these themes are explored adequately, no doubt due to Duvall's lack of experience as both a director and a writer.  To his credit, he does approach the film impartially and honestly; making clear that his intentions are not to shock, intimidate or offend.  But even from a technical view, it was evident to me that he simply doesn't have the skill, or experience to handle such a hefty workload as anything except an actor.  Many camera shots look second-rate and novice, and some scenes go way, way too long (especially his final preaching message).

Still, The Apostle is far from a disaster.  Duvall's riveting, Oscar(R) nominated performance is amongst the best of his career, and occasionally the film delivers some memorable moments.  In particular, a scene in which Sonny converts a racist troublemaker (Billy Bob Thorton, in a cameo role) is amongst its finest.

After being disappointed by The Apostle's lack of quality and distinctly clouded motives, my message to Duvall is clear: let the actors do the acting, and the directors do the directing.  Unless, of course, he or she somehow manages to create another Sling Blade.