>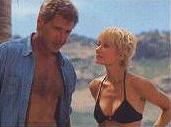 With much controversy surrounding the film regarding lesbian Heche giving a "straight" performance, allow me to say this: she does a much, much better job conveying a straight woman than most straight women do.† The main problem with Six Days Seven Nights does not lie in her performance, and came to think of it, nor does it with anybody elseís.† Ford, Heche, Obradors and Schwimmer all make passable if not pleasing appearances on the screen; giving a fun sense of improvisation to their roles.

What limits the film from being an inventive, rewarding feel-easy adventure is the far too loose script.† Perhaps if writer Michael Browning had been able to add more creativity to the action scenes, flesh out some of the characters and give the film a better climax, it may have been more convincing as both a romance and an adventure.

Like many poorly written mainstream films (Godzilla and Hard Rain come to mind), the script is awash with one liners ≠ ďIíd better not catch you smiling," Robin remarks when Quinnís hand is down her pants, trying to remove a snake.† Whilst often hilarious, these remarks serve as a quick joke, illustrating the fact that itís easier to create a witty remark than it is to build a genuinely funny scenario.

Perhaps director Ivan Reitmanís greatest achievement with Six Days Seven Nights was taking us on a journey to practically no where, and having fun along the way.† Having said that, the film is nothing more than some fun ≠ and although you may often find yourself laughing at it, the humour alone may just be enough to tide you over until you see a better, smarter film.