---
---
A Reel Life film section
Issue: Autumn 2022
Coco (2017) movie review
Dee's Barely Coherent Rambling Re: Coco
Despite his family's baffling generations-old ban on music, Miguel dreams of becoming an accomplished musician like his idol, Ernesto de la Cruz.
Desperate to prove his talent, Miguel finds himself in the stunning and colorful Land of the Dead following a mysterious chain of events. Along the way, he meets charming trickster Hector, and together, they set off on an extraordinary journey to unlock the real story behind Miguel's family history. Written by Disney/Pixar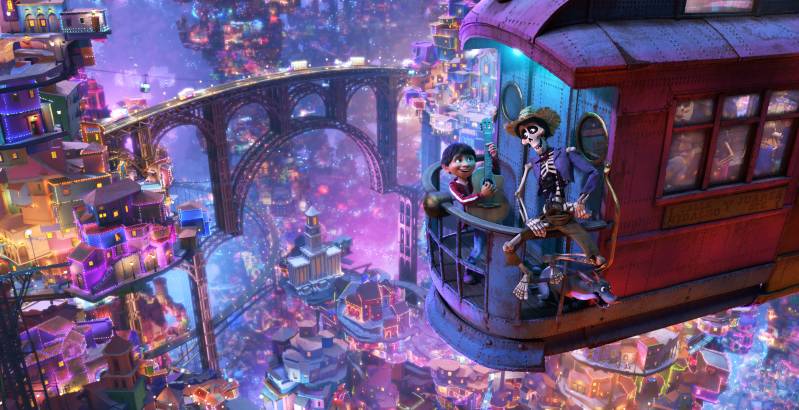 I find religions that emphasize ancestor worship sad. No, sad is not a strong enough word. Try horrific. Try cruel. Try ritualized imprisonment.
You don't see it? The movie Coco shows us the Day of The Dead ceremony, explaining that is is an absolute necessity for the dead to be remembered and fed. If they are forgotten or neglected they.. what? Die a second time? Fade away? Whatever fate awaits the forgotten is feared by the living and dead.
Our hero, a child, is bullied, yes bullied, by his living family to abandon his talent and ambition, and not to dream of a successful career as a musician because someone who is dead. Why? Why does the opinion of the dead matter?
The child goes to the land of dead seeking his father to get permission to, frankly, life his own life. Stuff happens, movie events. No spoilers.
I left the movie unhappy and angry. Despite his adventures the child is still trapped in the belief that he must serve the dead. No. Once you're dead you have no opinions, the living should not be imprisoned, unable to change, grow, explore.
Possibly I am influenced by the fact I've met my family, and, frankly, never want to invoke that terror again. As an insight into the ritual of Day of the Dead the movie failed me, probably because of its honesty, as I now there is another calendar holy-day that I will avoid.
For posts about Melbourne events, places, news, reviews, giveaways, see our Festivale Online Facebook Page:
2022-11-01
---
D.L. Carter is an Australian author now living in the U.S. Her aim is to write Reasonable Intelligent Heroines,
Dee is the Contributing Editor of This is Reel Life our movie supplement, and a regular contributor to Festivale.
You can find her at:
Dee on Facebook dlcarterauthor.com facebook.com/deeleana.carter
---
Discuss movies etc in our fb group Festivale's Reel Life

Australian release 26 Dec, 2017 (2017-12-26)
For credits and official site details, see below
Search Festivale for more work by the film-makers below.

See also: Onward (2020); Soul (2020); Moana (2016); Kubo and the Two Strings (2016); Sing (2016); Inside Out (2015); The Book of Life (2014); ParaNorman (2012); Coraline (2009); Up (2009); Wall-E (2008); The Iron Giant (1999)

---

for movie, TV show, or person

Film commentary and upcoming movie release dates at reel-life.info

Just the facts:

Title: Coco (2017)
Written by: Lee Unkrich & Matthew Aldrich & Jason Katz & Adrian Molina
Directed by: Lee Unkrich & Adrian Molina
Music by: Michael Giacchino (original score composed by)
Running time: 105 min
Rating: PG

---

The Players: Benjamin Bratt, Anthony Gonzalez, Edward James Olmos, John Ratzenberger,

---

Official website: https://movies.disney.com/coco
https://www.disney.com.au
IMDb entry


---

For scheduled release dates, see the coming attractions section.

For more information about this movie, check out the internet movie database.
For the latest additions to Festivale, check out the change history section.