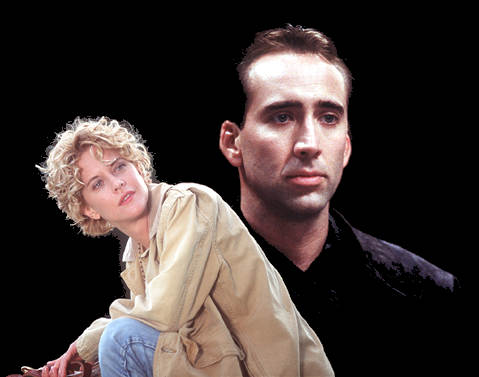 Would you give up immortal life for "one breath of (your loved one's) hair", one kiss? one touch?
In Los Angeles (which means place of angels), there are angels everywhere, unseen, reading over shoulders, easing tense situations, chatting to one another perched on neon signs and high-rise girders, and gathering each sunrise and sunset to hear the music. They are the messengers, wingless, clad in black, shoeless, immortal, unfelt and unfeeling. They do not know taste, or touch, or smell, but they can fall in love, and they can fall from immortality if they choose.
Seth (Nicolas Cage) is the angel who falls in love with a doctor (Meg Ryan). In a fun departure from European prejudices, he is black-clad, brooding, with a five o'clock shadow and she is pale, clear-eyed with the blonde curls of a cherub.
Because this world is based on a living religion's mythology there is a danger that non-Christians will find the film more difficult to appreciate. This is fiction that to some people is their tightly-clenched reality, and it is difficult to forget that an enjoy the tale.
The look and feel of City of Angels is rich and poetic, the black figures moving through the city are isolated, iconoclastic, and photographed in rhythmic dances of life and death. More than anything else, even the performances, the photography makes the film.
Extraordinary.