---
---
Mike Jansen
answers the Usual Questions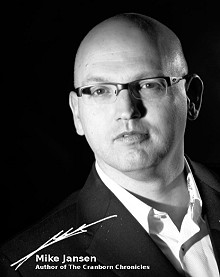 Mike Jansen has published flash fiction, short stories and longer work in various anthologies and magazines in the Netherlands and recently in English languages ezines and anthologies.
Has your interaction with fans, for example, at conventions, affected your work?
Definitely. Some of my fans are also my beta-readers. Their enthusiasm helps me, a lot, to improve my writing and to deliver a better overall product.
Is there any particular incident (a letter, a meeting, a comment that stands out?
There's nothing quite like receiving a mail from a fan, asking for the next installment of my fantasy series.
Do you have a favourite author or book (or writer or film or series) that has influenced you or that you return to?
For me that would be Glen Cook for his epic dark fantasy and Iain Banks for his beautiful Culture books.
Who is the person you would most like to be trapped in a lift with? or a spaceship?
Very PC I would say my significant other, although I could have interesting discussions with someone like Neil Gaiman or Steven Erikson.
Who is the person you would most DISlike to be trapped in a lift with? Or a spaceship?
In general I think I can get along with most people. In my personal life I do try to steer clear of destructive or demanding personalities. I've learned to say 'no, enough'...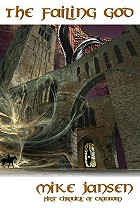 What would you pack for space? (Is there a food, beverage, book, teddy bear, etc that you couldn't do without?)
An ereader with a few thousand books would be essential.
What is the most important thing you would like to get/achieve from your work?
I hope my work entertains people and that reading my stories and books gives them the same sense of wonder I had when I picked up my first science fiction and fantasy books. So far, I'm enjoying the journey and I'll see where it takes me.
What is the special satisfaction of your work?
The quiet. When my mind is working out story lines, I can be focussed and forget all else. Since I have a restless mind, writing has become very important in keeping me sane.
submitted by Mike Jansen
17 September 2014
For other answers to The Usual Questions Click here
Just the facts:
Born: End of the sixties, in Holland
Resides: I live in Hilversum, close to Amsterdam
Bibliography/Awards: A list of my publications is available on my website: http://meznir.com/1_8_English-Publications.html
I've won several Dutch literary awards, for genre and regular fiction: King Kong Award, Fantastels Award, Baarn Literature Prize and a few shortlists and runner-ups.

Web site:
www.meznir.com
facebook
twitter


For posts about Melbourne events, places, news, reviews, giveaways, see our Facebook Page: