---
---
Gregory Lamberson
answers the Usual Questions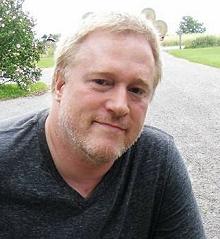 Gregory Lamberson is a filmmaker (Slime City, Undying Love and Naked Fear) who works today more as an author including series The Jake Helman Files and the werewolf chronology The Frenzy Cycle.
Lamberson is also the author of the non-fiction book Cheap Scares: Low Budget Horror Filmmakers Share Their Secrets.
Has your interaction with fans, for example, at conventions, affected your work?
I draw a great deal of encouragement from my readers, both at conventions and through social networking. It's rewarding to know that there are people responding to what I'm doing. I do FanExpo Canada in Toronto every year, and I've developed some regular visitors there. Each year I look forward to hearing their reaction to my previous published work. But this interaction doesn't affect what I write - it just gives me confidence that I'm on the right track, at least for "us."

Is there any particular incident (a letter, a meeting, a comment that stands out?
Anytime I get an email or Facebook message from a reader - I hesitate to call them fans - it makes my day. My first novel was published in 2004, and I've been pretty prolific since 2008, but I write in a genre that's subject to artistic discrimination - horror! - and I've attempted to do something crazy: live on advances, royalties and income from film projects. It can be brutal, and I have a family. An appreciative message really lifts my spirits, and I treasure them all.
Do you have a favourite author or book (or writer or film or series) that has influenced you or that you return to?
I think my two biggest influences have been a comic book writer named Marv Wolfman, who wrote a sophisticated horror comic in the 1970s called The Tomb of Dracula, and filmmaker George Romero, who fathered the modern zombie genre. Both of them taught me that the most important element of a supernatural story is to make the protagonist(s) someone believable who you care about. Make the reader care about this person or people, then punish the hell out of them and empathy will result.
Who is the person you would most like to be trapped in a lift with? or a spaceship?
In an elevator, my wife. On a spaceship, my daughter. But if I had to choose someone from outside my daily existence, it would be someone with a good sense of humor. I don't need a philosopher, political commentator, or deep thinker filling my head with long winded thoughts in a situation like that, I'd want to be with someone who could make me laugh.
Who is the person you would most DISlike to be trapped in a lift with? Or a spaceship?
I can think of several people, but if I named them I'd probably end up trapped in an elevator or on a spaceship with them.
What would you pack for space? (Is there a food, beverage, book, teddy bear, etc that you couldn't do without?)
I'm not much of a materialist. I guess I'd pack clean underwear and deodorant. Besides, I've watched The Twilight Zone. As Jessie just said to Hank on the TV series Breaking Bad, "Whatever you think is going to happen, the exact opposite will happen."
What is the most important thing you would like to get/achieve from your work?
I like the feeling I get when I've just finished a novel. I like better the feeling I get when I give it a read through and I don't hate it. I've been writing an occult detective series called The Jake Helman Files, and each novel builds one more block in an ongoing story. I feel good when I see that everything is coming together.
What is the special satisfaction of your work?
I love my characters, and I love when they do things I didn't expect - to be surprised by stories I've been formulating for months, sometimes year, is a wonderful thing.
submitted by Gregory Lamberson
7 September 2013
For other answers to The Usual Questions Click here
Just the facts:
Born: April 19th, 1964 - I'm a Beatle at heart - Gowanda, New York, USA
Resides: Buffalo, New York.
Bibliography/Awards:
Personal Demons: Winner of the Anubis award for horror; winner of the IPPY Gold Medal for Horror Johnny Gruesome: Winner of the IPPY Gold Medal for Horror; Bram Stoker Award finalist
Cheap Scares: Low Budget Horror Filmmakers Share Their Secrets
The Frenzy Way
Desperate Souls
Cosmic Forces
The Frenzy War
Tortured Spirits
Carnage Road (optioned for film)
Storm Demon

Web site:
www.gregorylamberson.com
Facebook: Gregory Lamberson Author Filmmaker
Twitter: @GregLamberson


For posts about Melbourne events, places, news, reviews, giveaways, see our Facebook Page: