---
---

Brett Battles
answers the Usual Questions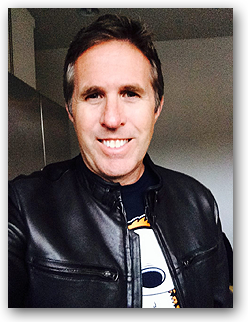 Californian writer Brett Battles was raised by avid readers, and developed the love of reading at an early age.
He has travelled widely, and this is reflected in the locations of his award-winning thrillers.
His advice to beginning writers is: Read. Observe. Experience. Write.
Has your interaction with fans, for example, at conventions, affected your work?
It's always great to know that people are reading and liking my work. I can't imagine living in a vacuum without that feedback from readers/fans. I love meeting and talking with them. I feed off their energy and excitement all the time.
Is there any particular incident (a letter, a meeting, a comment that stands out?
Last summer a loyal reader sent me a picture of his Kindle with the cover to my book THE DISCARDED on it, and in the background was the Pantheon in Rome. Very cool.
Do you have a favourite author or book (or writer or film or series) that has influenced you or that you return to?
I have many of each category! Some of the authors who've left their marks on me are Graham Greene, Stephen King, Haruki Murakami, Alistair MacLean, Robert Heinlein, Tim Hallinan...I could go on. Books? 1Q84, Battle Royale, The Quiet American...and, well, more again. I could do the same with movies, too, but won't subject you to that.
Who is the person you would most like to be trapped in a lift with? or a spaceship?
In a lift, it would be someone I could have an interesting conversation with who wouldn't get too annoyed by my constant questions since we'd probably get out within a few hours at most. Someone like Stephen King or George Lucas or David Bowie...creative types. In a spaceship? Well, we could be there for a long time, so a nerdy-cute scientific genius who can figure out solutions to any problems we might encounter while not minding that I'm basically useless because she likes having me around.
Who is the person you would most DISlike to be trapped in a lift with? Or a spaceship?
A psychopath.
What would you pack for space? (Is there a food, beverage, book, teddy bear, etc that you couldn't do without?)
Dr. Pepper, my Kindle, and Sriracha Chili Sauce (yum!)
What is the most important thing you would like to get/achieve from your work?
Satisfied readers. No question.
What is the special satisfaction of your work?
That I get to be a writer! I love every minute of what I do (well, I sometimes am annoyed at myself during the editing process but that's a minor point). It's something I've dreamed of doing since I was 10 years old.
submitted by Brett Battles
March 2016
For other answers to The Usual Questions Click here
Just the facts:
Born: Human.
Resides: Los Angeles, California
Bibliography/Awards:

Awards Won
THE DECEIVED - Barry Award for Best Thriller 2008
Nominations (not won)
THE CLEANER - Barry Award for Best Thriller 2007
THE CLEANER - Shamus Award Best Debut 2007
THE SILENCED - Barry Award for Best Thriller 2011
List of Books
Quinn Series:
THE CLEANER
THE DECEIVED
SHADOW OF BETRAYAL(US)/THE UNWANTED(UK)
THE SILENCED
BECOMING QUINN
THE DESTROYED
THE COLLECTED
THE ENRAGED
THE DISCARDED
THE BURIED
THE UNLEASHED
Rewinder Series:
REWINDER
DESTROYER
Project Eden Series:
SICK
EXIT 9
PALE HORSE
ASHES
EDEN RISING
DREAM SKY
DOWN
Logan Harper Series:
LITTLE GIRL GONE
EVERY PRECIOUS THING
Alexandra Poe Series (w/Robert Gregory Browne):
POE
TAKEDOWN
Standalones:
HERE COMES MR. TROUBLE (middle grade)
NO RETURN
THE PULL OF GRAVITY
Web site:
Website: brettbattles.com
Twitter: @brettbattles

For posts about Melbourne events, places, news, reviews, giveaways, see our Facebook Page: