---
---
A Reel Life film section
Issue: Summer 2015-6
Suffragette (2015) movie review
Soldiers for the Vote
The fight for the vote was a fight for better lives. The British movement was lead by the Pankhursts, but this film centres on the ordinary women who took extraordinary steps to get better treatment for themselves and their daughters.
...deeds not words ...
When this film begins, the British female suffrage movement had been working for at least 50 years. Their leader Emily Pankhurst (Meryl Streep) had come to the realisation that only by direct action against the state would women be heard. Their campaign included blowing up mail boxes and throwing bricks through windows.
Offended by such unladylike behaviour, and the threat to their patriarchal world, the government and the police took to increasingly brutal responses to suffrage demonstrations and marches.
Suffragette is an important film because so much female history has not been taught. Young women today often don't realise that other women suffered and even died in the struggle for the vote.
This film, unlike the brilliant but almost forgotten series Shoulder to Shoulder follows the soldiers of the movement, the ordinary women. Maud Watts (Carey Mulligan) plays a laundress who works in terrible, dangerous conditions like her mother before her. She is accidentally pulled in the world of the suffragettes and faces the ire of her husband, other women, and her sexually predatory boss as well as the police when she quietly but firmly takes her stand.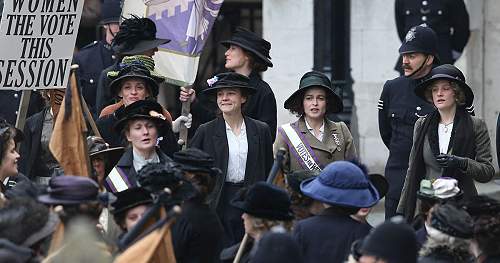 The characters are interesting, their trials, living and working conditions shown in a matter-of-fact way, and the story never falters.
These are stories that must be told, and this one is told well.
by Ali Kayn
Australian release 2015
For credits and official site details, see below
Search Festivale for more work by the film-makers below.
See also:

for movie, TV show, or person

Just the facts:

Title: Suffragette (2015)
Written by: Abi Morgan
Directed by: Sarah Gavron
Running time: 106 mins
Rating:

---

The Players: Carey Mulligan, Anne Marie Duff, Brendan Gleeson, Grace Stottor, Meryl Streep, Helena Bonham Carter,

---

Official website: https://www.suffragettemovie.com/
IMDb entry

---

For session times of current films, use the cinema listings on the Movie links page. For scheduled release dates, see the coming attractions section.

For more information about this movie, check out the internet movie database (IMDb).
For the latest additions to Festivale, check out the change history section.
For posts about Melbourne events, places, news, reviews, giveaways, see our Facebook Page: