---
---
A Reel Life film section
Issue: Summer 2015-6
Sisters (2015) movie review
Sister (Are Doin' It For Themselves)
Two very different sisters come home, one because she knows her parents are planning to sell, the other because she wants to move in with them.
If you are offended by f@#$%ing harsh language, read no further. This film is not for you. Sisters pulls no punches. Maura (Amy Poehler) and Kate (Tina Fey) are not just given to let the occasional expletive fly, they are pretty earthy most of the time.
In fact, Maura meets her love interest (Ike Barinholtz) when the pair stop their car to flirt with a gardening neighbour - and their style is up front and personal and well past double entendres.
Still with me? Regular readers will know that I am not a fan of slapstick or frat party humour, but despite the big party scene and the broad humour, this film worked for me.
There are genuine relationships, especially between the sisters. The humour is never strained or mean.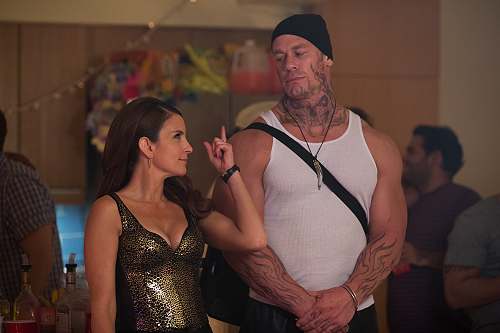 My safe word is "keep going"
In fact I think I f@#$%ing loved it. Sisters takes you for a ride that never falters.
And don't miss James Brolin and Dianne Wiest as the parents. They are out there enough to be the parents of these women, and not averse to using a bit of extreme language themselves. Wiest letting fly is a hoot.
This is one of the best broad comedies to come out of the U.S.A. and well worth a look.
by Ali Kayn
Australian release 7 Jan 2016
For credits and official site details, see below
Search Festivale for more work by the film-makers below.
See also:

for movie, TV show, or person

Just the facts:

Title: Sisters (2015)
Written by: Paula Pell
Directed by: Jason Moore
Running time: 118 mins
Rating: MA 15+

---

The Players: Tina Fey, Amy Poehler, Ike Barinholtz, James Brolin, Dianne Wiest, John Cena,

---

Official website: http://www.sistersfilm.com/
IMDb entry

---

For session times of current films, use the cinema listings on the Movie links page. For scheduled release dates, see the coming attractions section.

For more information about this movie, check out the internet movie database (IMDb).
For the latest additions to Festivale, check out the change history section.
For posts about Melbourne events, places, news, reviews, giveaways, see our Facebook Page: