---
---
A Reel Life film section
Issue: Summer 2015-6
The Revenant (2015) movie review
Quest for Life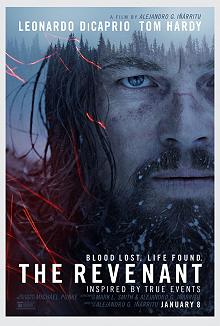 (n. One who has returned, as if from the dead.)
A frontiersman named Hugh Glass on a fur trading expedition in the 1820s is on a quest for survival after being brutally mauled by a bear.
The Revenant has received critical acclaim, and prize nominations galore. What is it about this tale of the Wild West in Winter that has people raving?
Leonardo di Caprio as Hugh Glass goes through an emotional and physical order for 156 minutes of screen time.
After he is attacked by a bear, his expedition splits up leaving three men (including his part native adult son) to care for, and if necessary, bury him.
When John Fitzgerald (Tom Hardy) attempts to kill Glass, his son objects and Fitzgerald kills the young man in front of his dangerously injured father.
Left for dead in an open burial pit, Glass must find a way to survive, return to 'civilisation', and get what he sees as justice for his boy.
And there it is, in the picturesque winter countryside di Caprio's Glass is bleeding, infected, often injured, occasionally befriended, starving, thirsty, haunted by his son and his woman, filthy, wet, cold - well you get the idea.
An ordeal.
For posts about Melbourne events, places, news, reviews, giveaways, see our Facebook Page: