---
---
A Reel Life film section
Issue: Summer 2015-6
Pride and Prejudice and Zombies (2016) movie review
Reinventing Jane Austen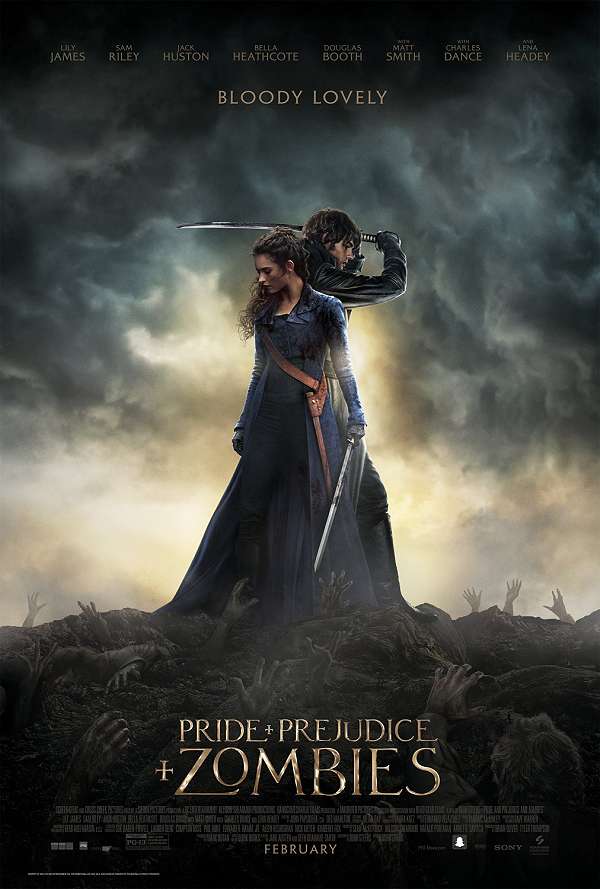 "It is a truth universally acknowledged that a zombie in possession of brains must be in want of more brains." - Jane Austen and Seth Grahame-Smith
Jane Austen's classic tale of the tangled relationships between lovers from different social classes in 19th century England is faced with a new challenge -- an army of undead zombies.
Frocks. With weapons strapped beneath them. Dances. Country walks from Longbourne to Meryton and Netherfield - with the occasional zombie slaying. Five Bennett sisters. Blood and brains. And Mr Darcy. That's what you can expect from Pride and Prejudice and Zombies (directed by Burr Steers), which literally is Pride and Prejudice with the addition of more than a few zombies.
In this alternative take on Jane Austen's classic novel, England has been suffering a plague of zombies for many decades. However, the Bennett sisters still enjoy going to balls and meeting young gentlemen - which they discuss avidly during morning sparring sessions to practice their Shaolin style zombie-fighting techniques. Lizzie declares a gentleman worth loving and marrying wouldn't ask her to relinquish her weapons.
Fans of Pride and Prejudice will recognise about sixty percent of the story, which evolves more or less as expected up until Mr Darcy (Sam Riley) first proposes to Elizabeth (Lily James). However, the presence of a plague of zombies has twisted English upper class society into something rather different from Jane Austen's Regency. Beneath the froth and bubble of dancing and dreams of marriage is an England slowly but inexorably being overcome by a tide of undead. Wealth is revered - but not as much an ability to kill zombies. Here, Lady Catherine De Bourgh (Lena Headey), complete with black eye-patch, is England's First Defender. Mr Darcy is not too shabby a zombie-killer either.
There is much to adore about Pride and Prejudice and Zombies. One of the highlights for me was Elizabeth's response to Mr Darcy's proposal - a martial arts kick to his chest, with the rest of the famous dialogue played out (not verbatim) to the tune of punches, steel and broken furniture. In this alternate Regency, women have more independence and (as Lizzie says in another adapted famous scene) cannot be expected to be truly accomplished in both the womanly virtues and the art of fighting.
The movie looks gorgeous too - stately homes, cunningly designed gowns to allow access to weapons, beautiful hair, picturesque scenery. And, for the most part, it unfolds in the refined tone of traditional Pride and Prejudice, with the darker zombie incidents largely taken in stride by the characters. There is a zombie apocalypse of sorts to deal with, but at heart it's still a love story and comment on (an albeit different) society.
At times the adapted Austen dialogue is a little ham-fisted its attempt to be clever, but these false notes are only occasional. (I remember this being more of an issue when I attempted to read the book by Seth Grahame-Smith some years ago.) Extra comedic relief is found in the character of Mr Collins (Matt Smith), who is hammed up another few levels. The other notable casting is Charles Dance as a taciturn and severe Mr Bennett, intent on ensuring his daughters are all first-rate slayers.
On the whole, I found Pride and Prejudice and Zombies a whole lot of fun as a movie. (I couldn't stand it as a book.) There's enough classic Lizzie and Darcy repartee to satisfy the most ardent P&P fan, despite the lack of Colin Firth. True purists might feel it's sacrilege to throw in some zombies and mess with the story, but I think anyone with a broad mind and sense of adventure should enjoy.
by Ellen Gregory
http://ellenvgregory.com/ Australian release 25 Feb 2016
For credits and official site details, see below
Search Festivale for more work by the film-makers below.
See also:

See more films to be released in Feb 2016

for movie, TV show, or person

Just the facts:

Title: Pride and Prejudice and Zombies (2016)
Written by: Burr Steers (scr), Jane Austen (novel), Seth Grahame-Smith (Quirk Books novel)
Directed by: Burr Steers
Running time: TBC mins
Rating: CTC

---

The Players: Lily James, Sam Riley,

---

Official website: http://prideprejudicezombiesmovie.com.au
IMDb entry

---

For session times of current films, use the cinema listings on the Movie links page. For scheduled release dates, see the coming attractions section.

For more information about this movie, check out the internet movie database (IMDb).
For the latest additions to Festivale, check out the change history section.
For posts about Melbourne events, places, news, reviews, giveaways, see our Facebook Page: