A Reel Life film section
Issue: Autumn 2009
Confessions of a Shopaholic (2009) movie review
True Love On Sale

A man will never love you or treat you as well as a store.
Rebecca doesn't have a problem, she could stop shopping at any time, but why would she? Stores are such happy, pretty places filled with lovely things that bring out your eyes and make your haircut look more expensive; things that they put into shiny new bags just because you let them swipe a little bit of plastic. Golly, you don't even need money for them to make you happy.
I'll get the tequila, you get the bills
Of course, like most things in life, eventually it catches up with you and you go from valued customer to number one on Derek the debt collector's most wanted list.
Becky has other dreams that don't involve shopping, she wants to work for Alette fashion magazine.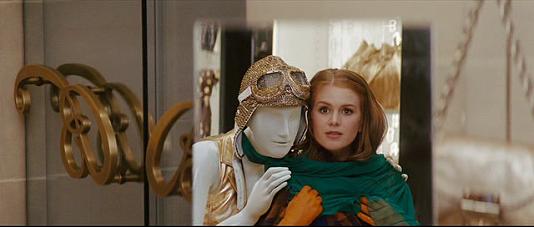 If I can just get this job I will be happy forever.

Becky takes a job at Successful Savings and launches a successful career writing financial columns using shopaholic metaphors. Meanwhile, her life has become a roller coaster ride.
Like all addicts, she lets down the people she loves, and who love her. She has a chance at winning the heart of her sexy and smart boss, but has lied to him about knowing Finnish and being stalked (by Derek the debt collector).
Confessions features some nicely-tailored performances being accessorised with able supporting performances of John Goodman and Joan Cusack as Becky's frugal parents, and highlighted by the office receptionist (loved him).
Can Becky find happiness with her credit cards frozen into huge blocks of ice in the freezer? Will she start the shopaholics anonymous steps if they don't come with cash-back? Is there happiness in walking past those glossy mannequins who literally speak to her?
If you're in the mood for a romantic comedy played with verve, this ensemble is for you.
by Ali Kayn
Due for Australian release 12 March 2009
For credits and official site details, see below
Search Festivale for more work by the film-makers below.

See also: P.J. Hogan also directed Confessions of a Shopaholic ; My Best Friend's Wedding ; Muriel's Wedding ; Peter Pan (2003)

for movie, TV show, or person

Film commentary and upcoming movie release dates at reel-life.info

Just the facts:

Title: Confessions of a Shopaholic (2009)
Written by: Tracey Jackson and Tim Firth and Kayla Alpert (screenplay); Sophie Kinsella (books "Confessions of a Shopaholic" and "Shopaholic Takes Manhattan")
Directed by: P.J. Hogan
Running time: 104 min
Rating: PG

---

The Players: Isla Fisher, Hugh Dancy, Krysten Ritter, Joan Cusack, John Goodman, John Lithgow, Kristin Scott Thomas, Lynn Redgrave

---

Official website
IMDb entry

---

For session times of current films, use the cinema listings on the Movie links page. For scheduled release dates, see the coming attractions section.

For more information about this movie, check out the internet movie database.
For the latest additions to Festivale, check out the change history section.