A Reel Life film section
Issue: Spring 2010
RED (2010) movie review
Don't Mess With the Old Folk
A lonely man sits in his lonely house making a bogus call to an operator with whom he has struck up a friendship.
Frank Moses (Bruce Willis) is not your average retiree, he's a RED (retired, extremely dangerous) agent. His case worker Sarah (Mary-Louis Parker) has an equally quiet life enlivened by her reading. Their lives are about to get a lot more interesting.
What will the baby boomers do when they retire? The ageing population is a constant concern to economists and sociologists, but what about ageing agents? Frank has gone from an active, dangerous life to obscurity. His only way to contact another person is to tear up his pay cheque. And he's not alone.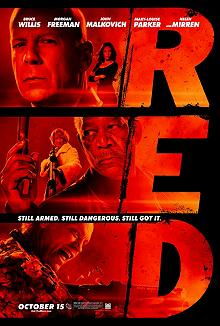 When agents break into his house, rousing Frank to action and cause the destruction of his home, Frank must bring all his old skills back to life. He has to call on his old friends from both sides to discover why he has been targetted, and what evil is being planned by his contemporary enemies.
And what friends he has! Joe Matheson (Morgan Freeman), Henry, The Records Keeper (Ernest Borgnine), the heavily armed paranoid Marvin Boggs (John Malkovich), and the elegant Victoria (Helen Mirren).
There's humour and extreme action, really, really big guns and the potential loss of old friends. What more could an audience want?
Share

by Ali Kayn
Australian release 28 October 2010
For credits and official site details, see below
Search Festivale for more work by the film-makers below.

See also: Helen Mirren (2010, RED, Red 2, Arthur, Inkheart, National Treasure 2, The Queen, Raising Helen); Bruce Willis (The Expendables, Nancy Drew, The Astronaut Farmer, Ocean's Twelve, Charlie's Angels: Full Throttle, Unbreakable, The Whole Nine Yards, The Story of Us, The Sixth Sense, Armageddon, Mercury Rising, The Jackal, The Fifth Element, Die Hard series); John Malkovich (Being John Malkovich, Burn After Reading, Changeling, Eragon, The Hitchhiker's Guide to the Galaxy, Rounders, The Man in the Iron Mask, Con Air, Dangerous Liaisons, Making Mr. Right)

---

for movie, TV show, or person

Film commentary and upcoming movie release dates at reel-life.info

Just the facts:

Title: RED (2010)
Written by: Jon Hoeber & Erich Hoeber(screenplay); Warren Ellis and Cully Hamner(graphic novel)
Directed by: Robert Schwentke
Running time: 111 mins
Rating: M

---

The Players: Helen Mirren, Mary Louise Parker, Bruce Willis, Morgan Freeman, John Malkovich, Ernest Borgnine, Richard Dreyfuss, Robert Morse

---

Official website:
IMDb entry

---

For session times of current films, use the cinema listings on the Movie links page. For scheduled release dates, see the coming attractions section.

For more information about this movie, check out the internet movie database.
For the latest additions to Festivale, check out the change history section.