Murder and Mayhem in Jazz Age Melbourne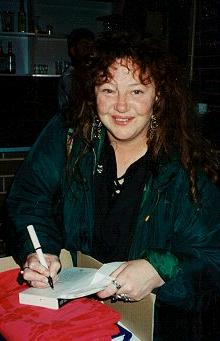 by Ali Kayn
A slim, dark-haired, green-eyed beauty is clicking her expensive heels through a Jazz Age Melbourne night. Suddenly she finds herself in the midst of a crime. Does she turn and run? Does she gasp and faint? Or does she pull a pistol from her haute couture purse and plug the miscreants? Phyrne Fisher, private detective, would calmly shoot them, perhaps in a strategic place, without compunction. Her creator Kerry Greenwood might be crying "Phyrne don't!" as she types, but characters have a life of their own, and Phryne does as Phryne chooses, according to her own hard-learned moral code.
Phryne assuages the boredom of wealth and privilege by offering private consulting services in the tradition of Sherlock Holmes; Kerry escapes the stresses of writing life as a duty solicitor in the courts of Melbourne. Two very different women, one the brainchild of the other.
Kerry Greenwood was hooked on story-telling from her first sentence at age six. "Some people take heroin, I write novels", she confesses. It's an addiction that marries up nicely with the eager appetite of her readers for more Phryne.

Phryne (named in error for a famous courtesan by a soused father) was born out of Kerry's own love of detective fiction. "I wanted her to be a heroine, but without all the difficulties Harriet Vine had." Stylist and sexy, Phryne's appearance is modeled on Kerry's sister Janet. She lives in Jazz Age Melbourne because it was the first historical time where an independent female protagonist wouldn't be a monster. Phryne can take contraceptive precautions like her sisters of the time, who threw off their corset, cut off their hems and their hair.
Kerry acknowledges the theory that there is a little of the writer in every character, but for a character sketch of the author, you should watch for a female lawyer in Flying too High, upon whom Phryne bestows a big murder case, only to solve it before it comes to trial. "It would be nice to be like Phryne", would she like Phryne as a daughter? "Absolutely. I would have no doubts about her surviving in the real world."
At 28, Phryne is still young, but in the novels the Jazz Age is rapidly coming to a close. "I'll keep it before the '29 market crash. I don't think know how well she'd react to it. I didn't know I was going to get more than two books." If necessary, in Phryne's world at least the crash may never happen. Phryne's adventures have continued well past the original two novels, and have earned her a fan club, and provided Kerry with a comfortable living. The Phryne books give Kerry the freedom to give her time to her legal aid work. "I like legal aid, it disconnects me from writing. Being a duty solicitor distracts the mind" and is a good cause. An awareness of the seedier, less privileged side of life informs the Phryne books, although topics such as illegal abortions and drug usage are woven into the plots, not presented in didactic asides. "I don't ever introduce an issue that isn't part of the plot".
Writing is a time- and emotion-intensive occupation, and during the actual writing of a book, there is little room for anything else. "Fortunately I have a particularly charming person living with me -- he looks after me when I'm writing in a nice off-hand fashion. I'm not really here when I'm writing, like a sleepwalker". A supportive man-about-the-house who keeps the cupboards stocked sounds idyllic, but in her chapter of The Thing She Loves, a collection of pieces on female killers, Kerry talks of the effort that goes into building a relationship, and improving the lines of communication between the sexes.
Like most writers, Kerry melds together the influences in her life, playing with combinations of them, and then sending new views into the world. Her interest in costuming is evident in her future-fantasy novel Whaleroad (she lives with a registered wizard), her work in crime (fictional and in the courts) can been seen in The Thing She Loves (don't read this before a big date), and then there is Recipes for Crime. The Phryne novels, for which she is best known fill a hole in the literary world, a female detective hero in the mold of the Saint and James Bond, not a cartoon like Modesty Blaise, or a leather-wrapped Emma Peel, but an actual woman who likes tea and good clothes and a nice warm fire in her own St Kilda hearth.
One suspects that while Kerry is much more reluctant than Phryne to shoot people and dash at illegal speeds in a sporty red roadster, the two of them share a passion for good food, good books, and curling up in front of the fire with her favourite pet.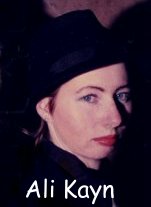 For more about Kerry and Phryne:
Kerry talks about her struggle with technology in the Sisters in Crime presentation Death on the Internet Recommended news groups and internet addresses are included in that piece.
See also:
Kerry Greenwood Phryne Fisher series page
Kerry Greenwood Corinna Chapman series page
Kerry Greenwood answers the usual questions
Whale Road, review
The Thing She Loves, review