by Alex Bledsoe
(warning: SPOILERS!)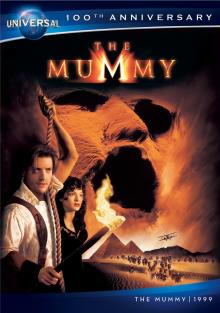 First, let's get the criticism out of the way. The Mummy Returns is not as good as The Mummy. It's repetitive, contains far too much CGI (something that would later overwhelm and derail writer-director Stephen Sommers' career in Van Helsing), and the plot hinges on absurdities that not even genre films can easily accommodate (even I wince when the little boy is referred to as, "The Chosen One").
But even with all that, it does something extraordinary with its female lead, Evie O'Connell. And few people seem to have noticed.
The Mummy introduced Evie as a bookish, clumsy Brit working in Egypt. She was almost a cliché: the beautiful woman who doesn't become beautiful to the hero until she later takes off her glasses (and puts on a lot of eye liner). In her first scene, she trashes the entire Cairo Museum library. Later she makes several bad decisions, such as reading aloud from the Book of the Dead, that move the plot forward. But despite all that, she's a resourceful woman who isn't interested only in being the hero's girlfriend: she also wants to be taken seriously as a scholar.
A lot of her appeal, of course, comes from the actress playing her, Rachel Weisz. This future Oscar(R) winner projects an innate intelligence and humor that fills in the gaps of the character as written, making her fully rounded (no pun intended) and compelling. To see how crucial this casting was, just check out the third film, where Evie was played by Maria Bello to no great effect.
At the end of The Mummy, Evie has fallen in love with adventurer Rick O'Connell, inadvertently acquired a fortune in treasure, and established (to her own satisfaction, at least) that she's as good an Egyptologist as any man. It's a suitable ending for the character as presented, and even though there's a final clinch between her and Rick, it's difficult to imagine a future in which the proper English lady and the shady American ne'er-do-well live happily ever after.
Except that's just what they do, because of the kind of character development that you seldom see in the movies.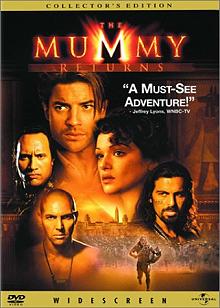 The Mummy Returns, although released only two years later, sees the O'Connells eight years after the events of the first film. They're now married, and have an eight-year-old son, Alex. When the story opens, they're on an archaeological dig in Egypt.
Already the film's interpersonal dynamics are completely skewed. Rick, the dashing hero of the first adventure, a man who joined the French Foreign Legion and went off to find a lost city of gold, has apparently been domesticated. Clearly Evie is in charge, and more importantly, Rick is perfectly fine with that. They have a somewhat Nick-and-Nora air to their exchanges, implying that marriage (and subsequent parenthood) has not rendered their relationship stale. (As screenwriter and novelist Melissa Olson put it, "They ignore their kid to make out several times. Including when he dicks around with a supernatural device, leading to his kidnapping.") Imagine any other hero of this sort of franchise-Indiana Jones, Jason Bourne, even Captain Kirk or James Bond-happily turning over the keys to his life.
And throughout the film, Rick is never the one with the ideas. He does plenty of fighting, but he's never the clever one. That falls partly to their son Alex (who is depicted as a pretty good combination of his parents' demonstrated traits), but mostly to Evie. She is the scholar, the one gifted with psychic visions, and the one who saves Rick at the climax instead of the other way around.
When Evie is killed, a helpless Rick begs his dying wife to tell him what to do. Our hero, the tough guy who carries the guns, is completely at a loss without his wife to guide him. Again, this is an abdication of the hero's power you might find in an indie or foreign film, but in a big-budget, big-studio action movie? (And Rick is not the one who brings her back to life; Alex, their son, does that.)
But even our first look at Evie in the second film shows how things have changed. Gone is the demure, bespectacled librarian; in her place is a confident woman who doesn't hide her attractiveness. And think about that for a moment. When's the last time you saw a movie, or read a book even, in which marriage and motherhood made the female protagonist sexier?
You rightfully hear a lot of complaints about the way mainstream Hollywood depicts women. That's why something like The Mummy Returns is so surprising. Whether it was there in Sommers' original script, brought up due to behind-the-scenes machinations (Rachel Weisz's career was certainly on the rise, and she may have insisted on a stronger character), or simply inadvertent, the fact remains that in this movie it's the woman who makes the decisions, outsmarts the bad guys and saves the hero.
by Alex Bledsoe