---
---
Pamela Sargent
answers the Usual Questions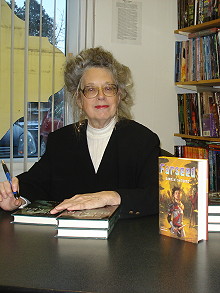 American science fiction writer Pamela Sargent's awards include a lifetime achievement in science fiction and fantasy scholarship, by the Science Fiction Research Association. Her Women of Wonder series helped highlight the talent of women writers of science fiction, important in a field where women have had to resort to male pseudonyms or using their initials.
Michael Moorcock has said about her writing: "If you have not read Pamela Sargent, then you should make it your business to do so at once. She is in many ways a pioneer, both as a novelist and as a short story writer...She is one of the best."
Has your interaction with fans, for example, at conventions, affected your work?
I don't think so, largely because I'm almost pathologically shy and haven't attended as many conventions as most writers do. I usually enjoy them quite a bit once I'm there; it's just hard sometimes getting up the nerve to go.
Is there any particular incident (a letter, a meeting, a comment that stands out?
There are far too many for me to single out one. There's the Wiscon of 1991, where Pat Murphy and I were guests of honor and Pat, during her speech at the banquet, announced the formation of the James Tiptree, Jr. Award, or the Wiscon of 1996, where there was a joint signing with all the Women of Wonder authors who were there. I always enjoyed going to Contradiction, a convention held in Niagara Falls, NY in the late 1980s through the 1990s; always a great bunch of people (and where I first met such luminaries as Rob Sawyer and Nancy Kress) and I-Con, a much bigger convention held on the Stony Brook University campus on Long Island. I-Con used to put up its guests at a place called the Three Village Inn, which had a main building and cabins with rooms and suites surrounding that building. I got up early one morning to go to the restaurant and fetch coffee for my companion, George Zebrowski, and ended up having breakfast with Robert Bloch, a truly memorable experience. Mr. Bloch drank several cups of coffee, enjoyed his bacon, eggs and cigarettes - you could still smoke in the restaurant then - and regaled me with tales of Hollywood and the movie business. That was in 1990, and I can recall seeing Bob Bloch, Gahan Wilson, and Gary Gygax all standing around near a fireplace at the inn, three legendary figures, with Jay Kay Klein, who had taken photos of nearly every sf writer and personality before his death not long ago, shooting photos of all three.
Do you have a favourite author or book (or writer or film or series) that has influenced you or that you return to?
Too many to mention. I've said before that it's probably the books read as a child that most influence any person, so in my case that would have to be Felix Salten (author of Bambi), E.B. White (especially Charlotte's Web), and Fred Hoyle, whose The Nature of the Universe really opened up my ten-year-old eyes.
Who is the person you would most like to be trapped in a lift with? or a spaceship?
My life partner, George Zebrowski.
Who is the person you would most DISlike to be trapped in a lift with? Or a spaceship?
Dick Cheney, probably the most reprehensible and evil person ever to be Vice President of the U.S. Being trapped with him would be utter hell.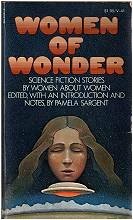 What would you pack for space? (Is there a food, beverage, book, teddy bear, etc that you couldn't do without?)
A good fair trade coffee, since I can't function without coffee. The Way Things Work would probably be the best choice of book. Any sustenance would have to include smoked salmon, New York bagels, and a bottle of Tanqueray gin.
What is the most important thing you would like to get/achieve from your work?/What is the special satisfaction of your work?
The satisfaction of shaping a story or book and finishing it, then sharing it with anyone who might appreciate it.
submitted by Pamela Sargent
14 December 2014
For other answers to The Usual Questions Click here
Just the facts:
Born: Ithaca, New York, a lovely college town in the Finger Lakes region of New York state that has all the virtues of a small town while being much more progressive and cosmopolitan than most small towns, thanks to the presence of Cornell University and Ithaca College. Spent my childhood there and still miss the place.
Resides: Albany, New York, the capital of New York state and a place where politics is a blood sport.
Bibliography/Awards:
Nebula Award for novelette, 1992; Locus Award for novelette, 1993; Pilgrim Award, 2012 (given for lifetime achievement in science fiction and fantasy scholarship by the Science Fiction Research Association); finalist for Hugo Award, Sidewise Award, and Theodore Sturgeon Award.
Web site:
www.pamelasargent.com

For posts about Melbourne events, places, news, reviews, giveaways, see our Facebook Page: