---
---
Jody Lynn Nye
answers the Usual Questions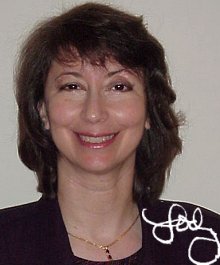 Jody Lynn Nye was at the last Aussiecon (1999) and was kind enough to take the time to answer the usual questions. A prolific writer of short and long fiction, she has co-written fantasy and science fiction titles with such people as Robert Asprin, Anne McCaffrey and Piers Anthony. The seventh of the Myth-Adventures books that she co-wrote is Myth-Fortunes. Says Jody, "a sadly apt title, since we lost Bob in May."
Has your interaction with fans, for example, at conventions, affected your work?
I like knowing my audience and like knowing who I'm writing for. I don't let it change what I'm writing.
Is there any particular incident (a letter, a meeting, a comment that stands out?
The first time someone gave me a present stunned me rigid. It was so kind and so unexpected.
Do you have a favourite author or book (or writer or film or series) that has influenced you or that you return to?
A combination ...Mark Twain. I have a whole list of authors that I go to for style -- Dorothy Sayers, Rex Stout, Anne McCaffrey, Asimov because he has the most transparent style that I know of for getting his ideas off the page to the readers. Terry Pratchett ... restores my faith in humanity.
Who is the person you would most like to be trapped in a lift with? or a spaceship?
That's a funny idea ... because I'm very shy myself, I might stay silent all the time anyway. If I couldn't be trapped in a lift with any of my close friends, Joss Whedon. I want to ask him some questions and I don't want him to get away.
Who is the person you would most DISlike to be trapped in a lift with? Or a spaceship?
Somebody who doesn't know the meaning of the word fear, or the meaning of the word deodorant either.
What would you pack for space? (Is there a food, beverage, book, teddy bear, etc that you couldn't do without?)
My Swiss army knife, chocolate. It's a vitamin not just a food.
What is the most important thing you would like to get/achieve from your work?
The impossible, I want to write all the stories that have been knocking at my imagination all these years.
What is the special satisfaction of your work?
I love exploring the crazy corners of my imagination and I really enjoy making people laugh... real humour is much more gentle than traditional comedy.
submitted by Ali Kayn
September, 1999
For other answers to The Usual Questions Click here
Just the facts:
Born: July 5, 1957 Chicago, IL, U.S.A.
Resides: Northwest suburbs of Chicago
Bibliography/Awards: Her bibliography as of 2008, click here
Recent and upcoming Books by Jody Lynn Nye:
Myth-Fortunes (w/Robert Asprin) -- Wildside Press (11/08), Ace Books (11/09)
Enchantment Place, "Altar Ego" - DAW Books (2008)
The Dimension Next Door, "Waiting for Evolution" - DAW Books (7/2008)
Terribly Twisted Tales, "No Good Deed" - DAW Books (2008)
A Forthcoming Wizard (book two of duology) - TOR Books (Apr 2009)
Witch Way to the Mall, "There's No 'I' in Coven - DAW Books (2009)
Zombie Raccoons and Killer Bunnies, "Death Mask" - DAW Books (2009)
Gamer Fantastic, "Roles We Play" - DAW Books (2009)
Strip-Mauled, "Howl!" - Baen Books (2009)
View from the Imperium - Baen Books (TBA)
Dragons Trey - Ace Books (TBA)

Web site: Official Jody Lynn Nye web site
Official myth series website
wikipedia article

For posts about Melbourne events, places, news, reviews, giveaways, see our Facebook Page: