A Reel Life film section
Issue: 2011
Countdown to Zero (2010) movie review
Living in the Shadow of the Bomb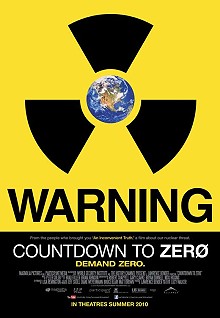 Writer/director Lucy Walker presents a 90 minute documentary on the ever-present threat of the nuclear bomb -- by accident, by miscalculation or by madness.
Walker looks at the history of the nuclear bomb, the proliferation of weapons, the availability of uranium on the black market and the spread of terrorism against the attempts at nuclear disarmament.
While the story is filled with interesting facts and interview/quotes, it is also fluffed out with unnecessary material. An interesting documentary, it requires patience to balance the want of editing.