A Reel Life film section
Issue: 2010
Dear John (2010) movie review
What Price War?

A soldier and a serious college student fall in love over his two-week leave on the shores of Ameria's south. They agree to wait for another, and to write for the year that he has left to serve. At the end of his tour, the other members of his unit volunteer to re-enlist. Is this too much to ask of a fledgling relationship?
Despite being yet another war movie from the United States of America, Dear John has a universal quality that transcends the separating device of war. There are many reasons for a couple to be separated, especially when they are young and gaining qualifications and beginning their careers.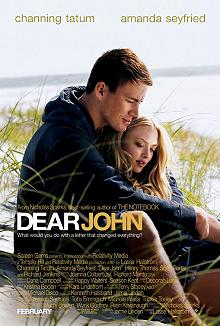 The cost of war in Dear John is not horrors and death, but simple human contact. Dear John concentrates on the relationships. The love affair between John Tyree (Channing Tatum) and Savannah (Amanda Seyfried), the friendship between Savannah and her neighbour and her neighbour's autistic child, and the strained relationship between John and his troubled, possibly mildly autistic father (Richard Jenkins).
Although there are sequences that could be shaved down a bit in the opening minutes, Dear John holds the interest with its simply-told story of human life. This is not a shoot-em-up war film, thank goodness; it does not waste time with propaganda, flag-waving, or cheap moments of loud angst. Rather it tells the tale of a small group of people whose lives were affected by separations, and the choices that they made.
Thoughtful and touching.
by Ali Kayn
Due for Australian release 2010
For credits and official site details, see below
Search Festivale for more work by the film-makers below.

See also:

for movie, TV show, or person

Film commentary and upcoming movie release dates at reel-life.info

Just the facts:

Title: Dear John (2010)
Written by: Jamie Linden (screenplay) Nicholas Sparks (novel)
Directed by: Lasse Hallström
Running time: 105 mins
Rating:

---

The Players: Channing Tatum, Amanda Seyfried, Henry Thomas, Richard Jenkins

---

Official website: www.dearjohn-movie.com
IMDb entry

---

For session times of current films, use the cinema listings on the Movie links page. For scheduled release dates, see the coming attractions section.

For more information about this movie, check out the internet movie database.
For the latest additions to Festivale, check out the change history section.