A Reel Life film section
Summer 2008-9
Australia (2008) movie review
Mixed Messages
An English noblewoman follows her unfaithful husband to their cattle station deep in Australia only to find he has been killed.
She decides to run the cattle to World War II Darwin, to sell to the War Department, recouping the family money and breaking a local monopoly.
In the process she runs afoul of the barbaric church-sponsored laws that stole "mixed-blood" children from their mothers to train them for domestic servitude.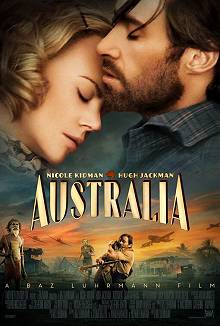 Australia as a box office movie has star power -- Nichole Kidman and Hugh Jackman have lead solid Hollywood performers and Baz Luhrman has helmed such earners as Moulin Rouge . Australia the country has a romantic appeal to many other countries, and its red centre is exotic. All these things make for great movie posters, ad campaigns and spin-off deals.
The first part of this film is classic western -- lone, plucky widow and loner, sweaty but hunky drover with their mixed band battle bad guys and the elements to save the (farm/ranch) station.
The second part is war movie including the subplot of the plucky kid stolen by the Australian government to be ill-treated in one of the church-run prisons for kids.
Together the two parts detract from one another, dragging out the story and swapping the focus. The result is glossy and bankable, but overlong and garbled.
by Ali Kayn
Due for Australian release 2008
See also: Radiance

for movie, TV show, or person

Film commentary and upcoming movie release dates at reel-life.info

Just the facts:

Title: Australia (2008)
Written by: Baz Luhrmann, Stuart Beattie, Ronald Harwood & Richard Flanagan (screenplay)
Directed by: Baz Luhrmann
running time: 165 mins
rating: M

---

The Players: Nichole Kidman, Hugh Jackman, Bryan Brown, Jack Thompson, Max Cullen

---

Official website:
IMDB entry


---

For session times of current films, use the cinema listings on the Movie links page. For scheduled release dates, see the coming attractions section.

For more information about this movie, check out the internet movie database.
For the latest additions to Festivale, check out the change history section.