A Reel Life film section
Issue: Spring, 2009
Almost Famous (2000) movie review
Write On!
William Miller's mother has strong opinions about the world, and about her children's education. Through effort and guile she has catapulted him into a class two years ahead of his age. Into this life of displacement comes a gift from his departing older sister -- the world of rock music.
William's education has a new turn and he is turned on to the music, in time becoming a writer in his school magazine and local music rag. In 1973, bright-eyed and eager, he befriends a writer who becomes his guru, not so much in music as in music journalism. It is time for William to meet the bands, and he is warned that "they are not our friends".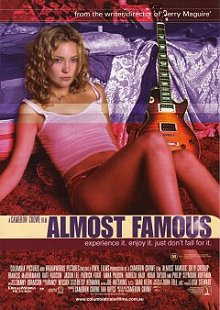 Experience it. Enjoy it. Just don't fall for it.
In movie time William receives a call from Rolling Stone magazine, and assigned to tour with a up-and-coming band.
Almost Famous is a road trip and coming-of-age film combined. As Will travels across country in the band's bus, sharing a room with the groupies, he is exposed to the world of s*x, dr*gs, and r*ck and r*ll.
Will keeps much of his innocence intact as he tags along trying from time to time to get interviews, his guru advising him on how to handle the editor.
He travels across the 1970s, post-flower child America, his education in the delicate under-aged hands of Penny Lane (Kate Hudson), making his twice-a-day calls to the iron mother. The band call him "the enemy", knowing that as a journalist he must tell the world about them, much as they would like a 'puff' piece instead. He is both their ticket to fame and the threat of revealing their crimes and misdemeanors to foe and family alike.
As a tale of rock and roll, this movie is remarkably clean. However this is a story of friendships, and too explicit a background would distract from the heart of it.
Watchable, and a fascinating stepping-stone in the career of Ms Hudson.
Share this
Like us on facebook
For the latest news and reviews.

by Ali Kayn
Australian release 22 Feb 2001
For credits and official site details, see below
Search Festivale for more work by the film-makers below.

See also:

for movie, TV show, or person

Film commentary and upcoming movie release dates at reel-life.info

Just the facts:

Title: Almost Famous (2000)
Written by: Cameron Crowe
Directed by: Cameron Crowe
Running time: 122 mins
Rating: M

---

The Players: Billy Crudup, Frances McDormand, Kate Hudson, Zooey Deschanel, Anna Paquin, Philip Seymour Hoffman, Pauley Perrette,Patrick Fugit

---

Official website:
IMDb entry

---

For session times of current films, use the cinema listings on the Movie links page. For scheduled release dates, see the coming attractions section.

For more information about this movie, check out the internet movie database.
For the latest additions to Festivale, check out the change history section.