Hamilton
Victoria's Western District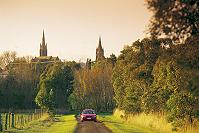 Hamilton calls itself "The Wool Capital of the World". Originally named Grange Burn, Hamilton's settlement grew as a result of the Western District's strong pastoral development. The squatters and their wool were of great economic and social importance to the growth of the town.
source: visitvictoria.com
Traditionally three Aboriginal tribal territories bordered in the area -- the Gunditjmara of the south, the Tjapwurong to the north and the Bunganditj to the west. The wealth of local wildlife enabled the local tribes to live a less nomadic lifestyle than other Australian aboriginal groups for some 5,000 years. In 1844 William Thomas described "numerous and well-constructed dams" , impressed by stone weirs and a complex of waterways on the shores of the lakes and swamps.
In the early 1840s the competition between European settlers and the local tribes was a history of attack and retailiation. By 1900 the full-blood population was reduced to approximately 300.
Attractions:
Sir Reginald Ansett Transport Museum
Hamilton Art Gallery
Volcanic Discovery Trail
Byaduk lava tube caves
Lake Hamilton (artificial lake created when the river was dammed at the spot where the earliest settlers camped)
Rocklands Reservoir surrounded by state forests
Grampians National Park
declared 1984, the 168,000 hectare National park has over 1 million visitors every year.
Hamilton Botanic Gardens (native animal enclosure, bird aviary, band rotunda and decorative fountains, several trees classified by the National Trust)
Hamilton Community Parklands
Hamilton History Centre
Hamilton Pastoral Museum
Monivae Homestead
Wannon and Nigretta Falls along the Glenelg Highway, Wannon
Black Range State Park
(wildflowers, Aboriginal rock art)
Big Wool Bales (hands-on experience of the woollen industry)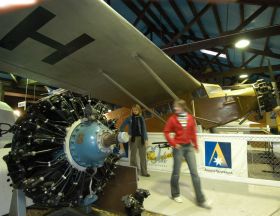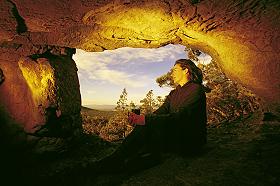 Just the facts:
Contact: Hamilton Visitor Information Centre
Lonsdale St, Hamilton VIC 3300 Telephone: (03) 5572 3746, 1800 807 056 (+61 3 5572 3746
South Grampians Shire Council
CAUTION: Shire Council site contains sexist/gender-specific terminology.
Visit Victoria Getting there: 285 kilometres west of Melbourne -- 3.5-hour drive by car via the Henty, Glenelg or Hamilton highways. Coach services are available from Melbourne. Daily air service from Essendon Airport in Melbourne.