---
Home (cover) > Reel Life (movie section) > Film Reviews > 2015
---
A Reel Life film section
Issue: Summer 2015
Star Wars The Force Awakens (2015) movie review
Another Generation, Another Battle
A continuation of the saga created by George Lucas and set thirty years after Star Wars: Episode VI - Return of the Jedi (1983).
First of all, I enjoyed The Force Awakens. It was a great ride. I got to be twelve again. ("The golden age of science fiction is twelve.")
I loved that it was big and bold and brassy. I loved it in 42-channel sound and 5-dimensional Imaxarama. But most of all, I loved seeing old friends and making new ones -- both onscreen and the group I was seeing it with.
I had a great time. And I will go see it again soon. I give it an 8, maybe an 8.5. (Once again it becomes obvious that the laws of physics work differently in the Star Wars universe, but so what? I had fun.)
See also: SF Franchises and Contemporary Science Fiction by David Gerrold.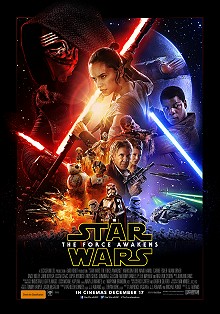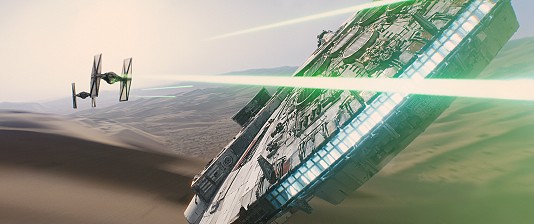 by David Gerrold
Australian release 17 December 2015
For credits and official site details, see below


---

David Gerrold is a American-based writer of short and long fiction and scripts.

Interview with David Gerrold; David Gerrold: Me and Science Fiction; Stucture, Structure, Structure (commentary); Gerrold answers The Usual Questions (interview); Movie Review, The Martian Child; David Gerrold film/tv listing (IMDB)
Author's web site
David Gerrold on Facebook


---

Search Festivale for more work by the film-makers below.
See also:

for movie, TV show, or person

Film commentary and upcoming movie release dates at reel-life.info

Just the facts:

Title: Star Wars The Force Awakens (2015)
Written by: Lawrence Kasdan & J.J. Abrams
Directed by: J. J. Abrams
Running time: mins
Rating:

---

The Players: Daisy Ridley, Mark Hamill, Carrie Fisher, Harrison Ford, Billie Lourd, Oscar Isaac, Gwendoline Christie, Max von Sydow,

---

Official website:
IMDb entry

---

For session times of current films, use the cinema listings on the Movie links page. For scheduled release dates, see the coming attractions section.

For more information about this movie, check out the internet movie database.
For the latest additions to Festivale, check out the change history section.
For posts about Melbourne events, places, news, reviews, giveaways, see our Facebook Page: