The National Theatre have been presenting National Theatre Live since 2009. Performances on stage are captured by cameras throughout the auditorium. The resulting images are broadcast to participating cinemas around the world.
This is not movie making - you will know you are seeing a theatrical production. But, this is also not that video of the school play - quality is high, many cameras are used, and we get extremely close to the action.
This particular production has been the fastest selling ticket in London theatre history. That's partly because Hamlet is a perennial favourite, a challenging play with much to offer.
It's partly because of the high production standards. But, I suppose, it's mostly because the star is a bit famous. Benedict Cumberbatch, known for Sherlock, Star Trek, and Cabin Pressure (that's radio, look it up, you won't be disappointed) appears as Hamlet.
And does it work? My goodness yes! The entire cast bring such energy to the work, we never forget this is theatre. The staging is superb - a single, very complex set is used throughout, with brilliant lighting used to create moods and scenes. The staging involves marvellous anachronisms - we are never sure quite when this is set. Ophelia carries an early 20th century bellows style camera, and photographs her food, Instagram style. Hamlet wears a Bowie t-shirt.
The real test is, does this style of performance replace theatre for us? Does it feel like seeing a movie? I don't think so. I found myself inspired to see more live theatre. I think this presentation makes theatre accessible in a whole new way.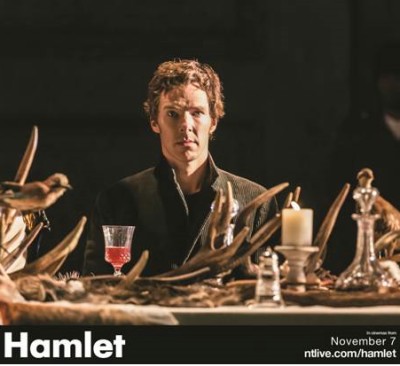 The production is three hours and twenty minutes, and includes an interval (on the screen, we see the theatre audience, and a countdown timer - no chance of missing any of the show). It's a hefty show, but don't worry, you'll never be bored. And incidentally, Cinema Nova in Lygon St is about as nice a place to see a film as any!
by Pauline Laing
Australian release 7 Nov 2015
For credits and official site details, see below
Search Festivale for more work by the film-makers below.
See also:

for movie, TV show, or person

Film commentary and upcoming movie release dates at reel-life.info

Just the facts:

Title: National Theatre Live: Hamlet (2015)
Written by: William Shakespeare
Directed by:
Running time: 217 mins
Rating:

---

The Players: Benedict Cumberbatch, Ciarán Hinds, Sian Brooke,

---

Official website: Ntlive.com
IMDb entry

---

For session times of current films, use the cinema listings on the Movie links page. For scheduled release dates, see the coming attractions section.

For more information about this movie, check out the internet movie database.
For the latest additions to Festivale, check out the change history section.