A Reel Life film section
Issue: Winter,2013
Pacific Rim (2013) movie review
Skyscrapers Beware, the Aliens Are Coming

It's Godzilla vs the robots in this version of human vs the aliens movie.
Grab the kids and head for the nearest monster shelter, aliens are rising up from the deep, becoming more and more extreme as they attack cities on the pacific rim. Planes and conventional weapons don't make a dent, so the authorities have built REALLY BIG human-controlled robots. Robots so big that it takes two, mentally connected humans inside the head of the robot to control it.
The controllers of these robots must be 'drift compatible', able to work together and tolerate being inside one another's head.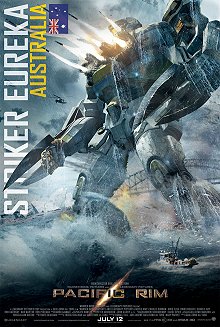 There's not a lot to say about this science fiction action flick, it's fairly predictable, the science is iffy and the resolution inconsistent with its own logic. There were a few places where the film really dragged, and that tended to be in the fighting scenes. There seems to be a tendency to squeeze in all those expensive computer graphics.
Nothing really new in the script. It was fun to see Ron Perlman (TV's Beauty and the Beast, Hellboy) practically without beast makeup, and there were genuine attempts from time to time at actual characterisation, however this one is strictly for those who really like monsters and robots.
by Richard Hryckiewicz also attended the preview. See his comments at right.
Richard's comments:
This was my first 3D film and the polarised lenses, while a bit of a pain to fit over my normal glasses, weren't that bad after a few minutes. The 3D effect worked remarkably well and I was most impressed with the result. Now to the film.
My first thoughts were ... a manga remake with giant robots piloted by people fighting monsters ... except it wasn't Tokyo getting trashed this time :) The idea behind a single mind made up of two people being able to control a giant machine is also not new and has been used in many Japanese anime and manga films. It worked and some of the special effects were very good. Alien invasion premise, while not new, was OK. Most character interaction, kinda believable and on the whole, I was able to suspend belief long enough to enjoy the film.
A few slow spots with gratuitous exposition, but again, a pretty good take on things. Some light spots that weren't forced also worked well, some genuine belly laughs were had without detracting from the story line or the characters. Overall, I'd be happy to give this another go and am interested in seeing how it work as a straight 2D movie.
Australian release 11 July, 2013
For credits and official site details, see below
Search Festivale for more work by the film-makers below.

See also: Hellboy
Pan's Labyrinth

for movie, TV show, or person

Film commentary and upcoming movie release dates at reel-life.info

Just the facts:

Title: Pacific Rim (2013)
Written by: Travis Beacham (screenplay) & Guillermo del Toro (screenplay)
Directed by: Guillermo del Toro
Running time: 131 mins
Rating:

---

The Players: Charlie Hunnam, Diego Klattenhoff, Idris Elba, Ron Perlman, Rinko Kikuchi

---

Official website: http://www.pacificrimmovie.com
IMDb entry

---

For session times of current films, use the cinema listings on the Movie links page. For scheduled release dates, see the coming attractions section.

For more information about this movie, check out the internet movie database.
For the latest additions to Festivale, check out the change history section.