A Reel Life film section
Issue: Winter, 2013
Elysium (2013) movie review
Things Are Better On High
In the future the space station Elysium orbits the Earth. There is luxury, health, the perfect life. But below on the ruined Earth the rest of humankind lives in the wreckage, administered by robots programmed for ruthless adherence to cruel laws. Any attempt to reach Elysium without approval results in death. Matt Damon plays a worker with a smart mouth who is left with five days to live after an industrial accident. On Elysium is the machine that can cure him.
Feeling the deja vu yet? Of course this is a familiar story. The utopian life in orbit, clean, fresh, pampered and privileged, and the workers below, scratching out a rough existence with minimal standards of living and in this case, ruled by deadly machines with a quick trigger finger.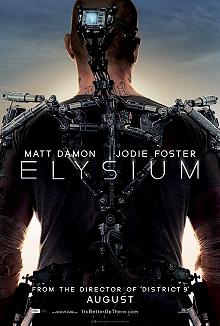 This is the logical development of capitalism. It is familiar and likely because science fiction is about taking sociology, psychology and or technology (soft and hard sf respectively) and writing a story about a reasonable extrapolation of that society. This is the SF of CANDIDE and GULLIVER'S TRAVELS.
Of course, it is also the SF of space stations, robots, and corporate factories.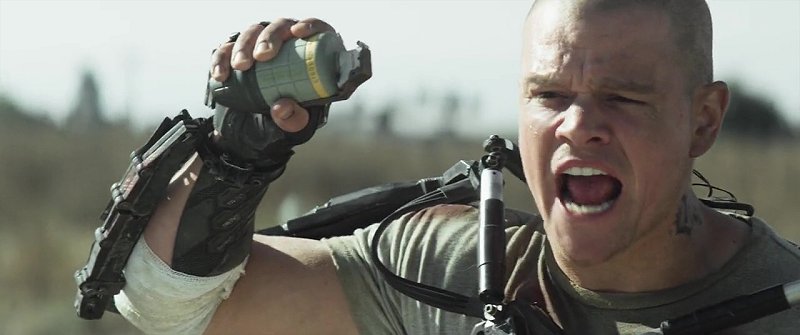 Matt Damon is a worker who was ordered into a dangerous situation and then thrown off the job to die within days, even though he could be cured on the space station above.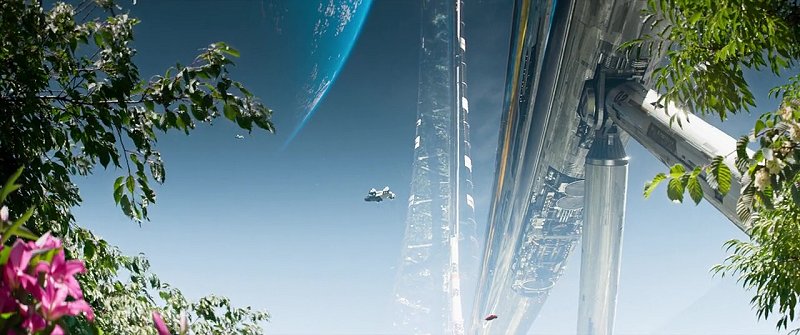 There's a childhood sweetheart and a dying child, but most interesting is the fist of the elite -- Jodie Foster as Delacourt. Delacourt is the fixer and the head of security and anything else that a suit-wearing administrator needs to be to make sure the people down there don't come up here.
Do you really need anything else? ELYSIUM is nicely played, unexceptionally written, and moves along at a decent pace. There is nothing new here, no special insight to make the audience think, but it is very watchable, and if you haven't done your basic SF reading, it could seem new and interesting too.
by Ali Kayn
Australian release 15 August 2013
For credits and official site details, see below
Search Festivale for more work by the film-makers below.

See also:

---

for movie, TV show, or person

Film commentary and upcoming movie release dates at reel-life.info

Just the facts:

Title: Elysium (2013)
Written by: Neill Blomkamp
Directed by: Neill Blomkamp
Running time: 109 mins
Rating: MA15+

---

The Players: Matt Damon, Jodie Foster, Sharlto Copley, Alice Braga,

---

Official website: www.itsbetterupthere.com/site
IMDb entry

---

For session times of current films, use the cinema listings on the Movie links page. For scheduled release dates, see the coming attractions section.

For more information about this movie, check out the internet movie database.
For the latest additions to Festivale, check out the change history section.