A Reel Life film section
Issue: Spring, 2009
The Ugly Truth (2009) movie review
Pygmalion's Promise

Sacramento-based Abby Richter (Katherine Heigl) is a highly-competent news producer who is facing declining ratings. She is has a checklist for the perfect man.
It's just a matter of looking chaos in the eye and telling it to F off.
One night after a dismal date, her cat gets control of the remote and introduces her to Mike Chadway. Chadway has made a career of presenting the ugly truth. Next morning she discovers that he has been hired as a guest commentator on her programme.
Men are simple. They can't be trained.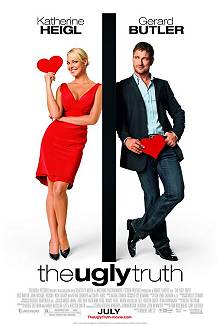 Abby and Mike have a profound disagreement about what is real and possible in relationships. Together they face the challenge of getting Abby together with her new neighbour -- a doctor who seems to have all the points on the checklist. It's makeover time with Mike as Pygmalion/Professor Higgins.
Don't listen to what I say on my show.
The Ugly Truth is a combination of My Fair Lady , Roxanne and Ask Any Girl. The hunt for true love with the person of one's list continues across the decades and the question remains, what are you willing to do, and what are you willing to change, to find the one.
by Ali Kayn
Due for Australian release 6 Aug 2009
For credits and official site details, see below
Search Festivale for more work by the film-makers below.

See also:

for movie, TV show, or person

Film commentary and upcoming movie release dates at reel-life.info

Just the facts:

Title: The Ugly Truth (2009)
Written by: Nicole Eastman (screenplay, story) and Karen McCullah Lutz (screenplay) & Kirsten Smith (screenplay)
Directed by: Robert Luketic
Running time: 96 mins
Rating: MA

---

The Players: Katherine Heigl, Gerard Butler, Bree Turner, Judy Greer,

---

Official website: http://www.thetruthisntpretty.com
IMDb entry

---

For session times of current films, use the cinema listings on the Movie links page. For scheduled release dates, see the coming attractions section.

For more information about this movie, check out the internet movie database.
For the latest additions to Festivale, check out the change history section.