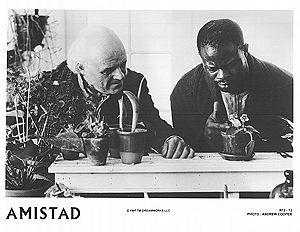 The photography is richly done, the story emphasises the noble savage as a man, not an ideal, however I wonder if the film audiences are quite so dense as to need their "Christ allusions" so plainly laid out for them. And yes, this is an interesting experience, watching a Jewish film maker drawing a parallel between black men kidnapped as slaves and a Jew made famous as a Christian martyr.
The film makers claim that the incident threatened to bring the country closer to Civil War, and that didn't ring true. Sadly, film makers, unlike other story tellers are not required to give a bibliography, so we can't tell whether the major characters were, in real life, thinking that their actions could precipitate a war. The war was about the rights of individual states to self-determination, not about whether slavery was right or wrong. And somehow the mention of civil war watered down the issue of slavery.
Amistad is one of those films that teachers will take their charges to (well, maybe not, there is some nudity reminiscent of Jaws). It's a film that is supposed to be good for you. I wonder if it is nourishing, or just didactic.