A Reel Life film section
Issue: Winter, 2013
Total Recall (1990) movie review
What would you do if you felt that the life you lived was not your own? Okay, you're a big tough guy (Arnold Schwarzenegger) with a gorgeous wife (Sharon Stone), but wouldn't you like to go somewhere? Maybe the colony on Mars? Wouldn't you like to be someone else? A spy maybe? Just for a little while.
Inspired by the Philip K. Dick short story We Can Remember It For You Wholesale, Total Recall is the story of an average man who slips away to have a memory-implant holiday with role playing options included. He's going to be a spy with an athletic/slutty girlfriend locked in an adventure that means life or death on mars, and the future of the whole Mars colony.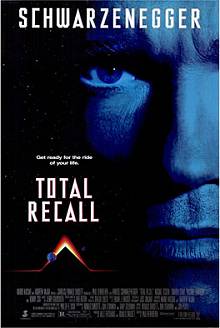 But he wakes up in a cab to find out that he is a spy whose memory has been messed with, and he is meant to go to Mars and work for the resistance.
That's the best mindf**k, yet
Is he Douglas Quaid or Hauser? Is he a good guy, or a corporate spy? Is the woman of his dreams working in a Mars bar/brothel where mutants abound?
Don't be fooled by the Schwarzenegger name. This is an interesting science fiction story with strong male and female characters. It's fast-paced, loaded with interesting futuristic details, and challenging.
Where will it all end? That would be telling, and there's no spoilers here, but watch for the scene where Sharon Stone shows she's not a woman to be messed with.
Recommended.
by Ali Kayn
Australian release 6 Dec 1990
For credits and official site details, see below
Search Festivale for more work by the film-makers below.

See also:

for movie, TV show, or person

Film commentary and upcoming movie release dates at reel-life.info

Just the facts:

Title: Total Recall (1990) (1990)
Written by: Philip K. Dick (short story "We Can Remember It For You Wholesale")
Ronald Shusett & Dan O'Bannon & Jon Povill (screen story)
Ronald Shusett & Dan O'Bannon & Gary Goldman(screenplay)
Directed by: Paul Verhoeven
running time: 113 mins
Rating: MA

---

The Players: Arnold Schwarzenegger, Rachel Ticotin, Sharon Stone, Ronny Cox, Michael Ironside, Rosemary Dunsmore

---

Official website:
IMDb entry

---

For session times of current films, use the cinema listings on the Movie links page. For scheduled release dates, see the coming attractions section.

For more information about this movie, check out the internet movie database.
For the latest additions to Festivale, check out the change history section.