Issue: March, 1997
Terry Pratchett
Master of Fantastic Humour
Terry Pratchett - is the man behind Discworld the ultimate flat-Earther?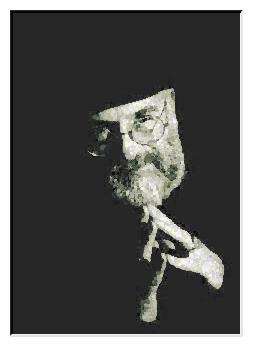 Terry Pratchett visits Australia. Often. Thats an undeniable fact. A reality. Something that in his books is a little skewed. Not that he is at all twisted, "I'm straight." he claims, "It's just that I look twisted because of the way the world wobbles..."
Terry has a large, committed (dare we say twisted?) following who happily demand more volumes of series such as Discworld. His particular brand of magic has fans clamouring for more. So much so that his first (teenage) book was recently reprinted - in hardcover. The Carpet People is the adventures of the little people who live in the hall carpet as they struggle to escape the dread scourge - fray.
This is a wonderful story of an alternative universe in the front hall. It is a humourous story of people and their values.
In Strata he starts with a dinosaur skeleton wearing a watch and suggests that fossils and other proofs of vast planetary age are part of the service provided by custom planet-builders.
Oh yes, this man is absolutely straight-visioned.
When a man tells stories that include dwarves from other planets who live under the floorboards of department stores, lonely computer-game-playing children who rescue the game's characters, chattering nuns, Prince Charles and the four horse riders of the Apocalypse, who would he choose as his favourite creation?
"Probably Granny Weatherwax. I can't be said to have created Death, exactly."
The way Terry Pratchett sees things continues to develop; in the introduction to the revised Carpet People he talks of his changing view of heroism and the rights of Kings. More recently he wrote, "The way I see things has changed the writing process. As you grow older, you learn that life is never as simple as it looks."
"Fantasy" is very much a marketing handle, an easy way to sell, display and list books. But according to Terry, "All fiction is fantasy. I write genre fantasy, or at least disguise what I write as genre fantasy, for its 'wild card' aspects - if I want an animate Death or a talking dog, there are structures that allow this."
Series writing enables writers to reuse their best ideas, and their favourite characters. "I suppose the main problem I've encountered is in dealing with the business of it all - the mail, the requests, the paperwork that's generated, all those letters that arrive every day obliging you to do something. But that's not a disadvantage, it's just the less engrossing aspect of what is actually a pretty good life."
FENSPEAK-BUSTER
Satan: Character from a Terry Pratchett/ Neil Gaiman book.
Pratchetting: Excessive autographing of an author's books. A practice perfected by Terry Pratchett. (See RUC)
RUC: Rare unsigned copy. A copy of a book as yet unsullied by the signature of a prolifically pratchetting author such as Terry Pratchett or Douglas Adams.
source: The 1995 Australian Fannish Diary (the second ish of a one-shot)


Terry Pratchett in Melbourne, Australia

Terry Pratchett is a popular guest at conventions, and a sure fire way to fill a bookstore is to hold a Terry Pratchett signing (see the text box).

"It's good to meet readers," he says, "It's generally a solitary job, after all. You can develop tunnel thinking."

Well, maybe, but any tunnel in Terry Pratchett's mind is likely to be an interesting and surprising place to visit.

by Ali Kayn
Search Festivale for more work by this author.

See also: Terry Pratchett answers the usual questions (interview)